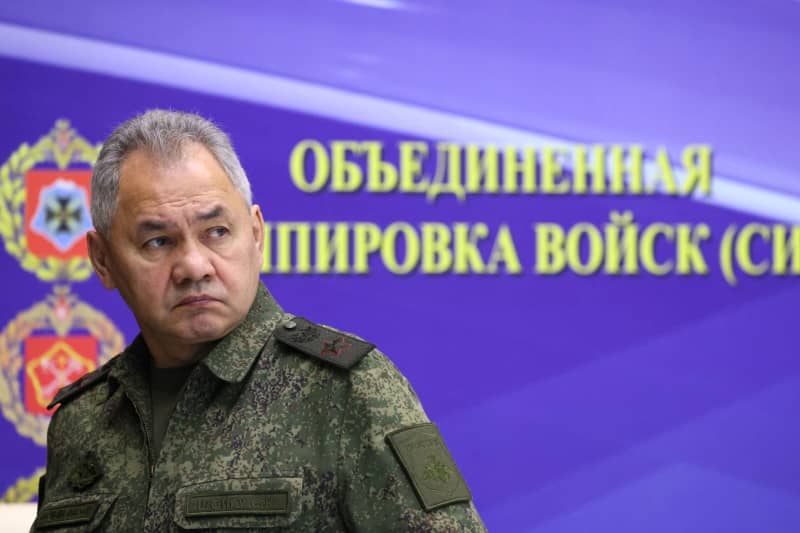 Ukrainian President Volodymyr Zelensky is determined to fight for the eastern city of Bakhmut, his office said on Monday, despite reports of a partial withdrawal and discord over the plan.
The city has been contested for months and if Russia takes control, some military analysts say it would open a road to the major cities of Slovyansk and Kramatorsk for Moscow's troops. They would then be closer to the complete conquest of the Donetsk region.
However, other experts say encirclement of the cities is now impossible after Kremlin forces have been driven out of the Kharkiv region to the north and that Bakhmut's valor is only a symbolic morale boost for the Russians.
Zelensky held a meeting with Commander-in-Chief Valerii Zaluzhny and Ukrainian Ground Forces Chief Oleksandr Syrskyi amid reports of a disagreement over the way forward.
"They expressed their support for the continuation of the defense operation and further strengthening of our positions in Bakhmut," Zelensky's office said in a statement.
According to Russian military bloggers, Wagner's mercenary forces took parts of eastern, southern and northern Bakhmut, which had a population of 74,000 before the war but is now inhabited by just 5,000 civilians among the ruins.
In its situation report on Monday, the Ukrainian General Staff reported continuing fighting in the area and there was no verified confirmation of a withdrawal.
The destroyed city itself and several suburbs were shelled by the Russian side.
Russia also attacked other areas of Ukraine by air during the night, Ukrainian officials said, with 13 of the 15 drones shot down.
"Drones had taken off from the north," Ukrainian Air Force spokesman Yuriy Ihnat said on television.
Particularly affected was Kramatorsk, a city in the Donetsk region, still under full Ukrainian control.
"Rocket attacks overnight destroyed a school and damaged 15 apartment buildings," city mayor Oleksandr Goncharenko wrote on Facebook, adding that no one was killed or injured.
Ukrainian leaders also reacted with horror to a video of an alleged shooting of a prisoner of war by Russian soldiers.
"War crimes are being cultivated in Russia," the head of the president's office Andriy Yermak wrote in Telegram on Monday. He was an example of Russian weakness, he said.
"For each of these war crimes there will be punishment. No one can escape," said the president's confidante Volodymyr Zelensky.
Foreign Minister Dmytro Kuleba told reporters he was devastated after seeing the video.
Ukraine's parliament's human rights commissioner Dmytro Lubinets called the allegedly filmed shooting "an expression of baseness and meanness".
The killing of prisoners is a violation of the Geneva Conventions, he stressed. She had sent the video to her international colleagues as evidence of "another war crime by Russia".
The authenticity of the video could not be independently verified.
The video had been published by various media outlets such as the internet portal Ukrainska Pravda. In it, a man in a Ukrainian uniform shouts "Glory to Ukraine" and is then presumably killed by several shots.
Hard-to-verify videos of Ukrainian soldiers shooting Russian prisoners have surfaced in the past. Moscow has also criticized them as war crimes.
Meanwhile, Russian Defense Minister Sergei Shoigu visited the occupied Ukrainian port city of Mariupol, which was almost completely destroyed by Russian shelling last year.
Shoigu checked the work of construction crews in Mariupol during his tour of the eastern Donetsk region, the defense ministry said.
In a video released by the ministry, Shoigu can be seen in a newly built military hospital and in front of the civil defense building.
He was also said to have received an update on the construction of an oil pipeline from the southern Russian region of Rostov to Donetsk.
There has been growing criticism that those in charge of the war in Moscow were only running it from their offices and paying no attention to the concerns of the soldiers and local population, whom Russia claims it has liberated from Kiev.
Moscow said over the weekend that Shoigu had visited frontline areas in Donetsk. A silent video showed him next to the chief of staff and commander of Russian troops in Ukraine, Valery Gerasimov, as well as his deputy Sergey Surovikin.
How close Shoigu was to the fighting could not be verified.
The visit came amid reports of ongoing disputes between the Wagner mercenary force and the Russian Defense Ministry.
On Monday there were reports of an alleged threat by Wagner chief Yevgeny Prigozhin to withdraw his unit fighting in front of Bakhmut and thus cause a collapse of the front. However, there were rumors that these were probably older statements from the oligarch.
The threat was allegedly made at the height of the conflict a few weeks ago, when mercenaries complained that the ministry was not supplying ammunition.
However, Prigozhin confirmed on Monday, in his news service's Telegram, that the controversy continues.
His representative was denied access to the general staff on Monday morning, he said. However, he did not talk about withdrawing his units from him. "We will continue to destroy the Ukrainian forces in Bakhmut," he said.