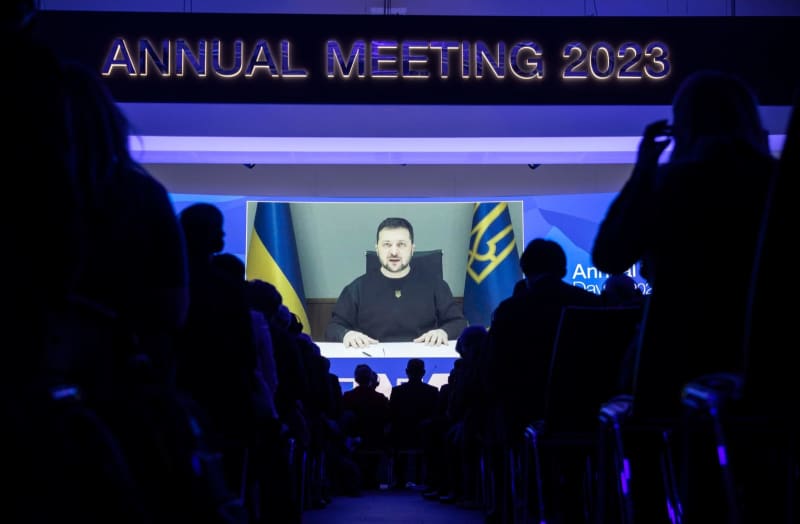 Ukrainian President Volodymyr Zelensky has lit fire on allies such as Germany, urging them to quickly send him tanks during a speech to the economic and political elite gathered in Davos.
Zelensky's appeal came shortly after the German chancellor said a few words on the tank issue, following weeks of whirling questions about his position.
"The time that the free world uses to think is used by the terrorist state to kill," Zelensky said via video link from Kiev. "Western tank supplies must overcome another Russian tank invasion."
Foreign capitals have repeatedly shown themselves too "hesitant" to take action to confront Russia, even if they ultimately make the right choice, he said.
Zelensky didn't mention Germany or Chancellor Olaf Scholz by name, but that wasn't necessary.
A big question hanging over this edition of the World Economic Forum in the Swiss resort of Davos was whether Scholz will abandon his resistance to sending modern German-made Leopard 2 tanks.
Scholz uttered the familiar refrain that Berlin will support Ukraine "for as long as it takes."
"We are continuously supplying Ukraine with large quantities of weapons, in close consultation with our partners," including artillery, air defense systems and armored vehicles, Scholz said on stage.
He described the decision to send those weapons as "a profound turning point in German foreign and security policy".
But Scholz – despite criticism not only from Kiev but also from NATO allies and members of his own coalition – has so far resisted the growing chorus of people urging him to send German-built Leopard 2 tanks.
In a brief question-and-answer session following his 25-minute speech, Scholz was pressed by an attendee about Leopards: "Why hesitate and why wait?"
Scholz replied that Germany was among Kiev's allies "doing the most".
He said Berlin would only make major decisions on weapons with its "friends and partners," namely the United States.
But fellow NATO members Britain and Poland recently announced they would deliver heavy tanks, which has turned the spotlight back on Berlin.
However, there were signs that a decision could be imminent. US President Joe Biden and Scholz spoke on the phone about support for Ukraine on Tuesday, the White House said.
Berlin has suggested that if Washington sends similar combat vehicles, it could pave the way for sending the Leopards.
Beyond Davos, all eyes were on Friday's meeting of Ukraine's allies at the US Ramstein airbase in southwest Germany.
In addition to the possibility of Germany donating Leopard 2 tanks to Kiev, Berlin is also being urged to provide the necessary approval for other countries to export their German-made tanks.
Zelensky's Davos speech this year came as his government reeled from a helicopter crash near Kiev on Wednesday that killed more than a dozen people, including Interior Minister Denys Monastyrsky and his deputy.
Zelensky asked the audience to observe a moment of silence. His wife, First Lady Olena Zelenska, was in the crowd. You have urged political and business leaders in Davos to exert their "influence" in support of Ukraine.
Most of Scholz's previous speech centered on Germany's transition to climate neutrality by 2045. He reminded hundreds of Davos CEOs that Germany would remain an "industrial powerhouse" even if it went green.
Scholz said Russia's war on Ukraine has forced his government to commit more rapidly to renewable energy.
Having long been dependent on Russian fossil fuels, Scholz outlined Germany's efforts to become fully independent of Russian oil, gas and coal, including finding new energy partners and building liquefied natural gas infrastructure.