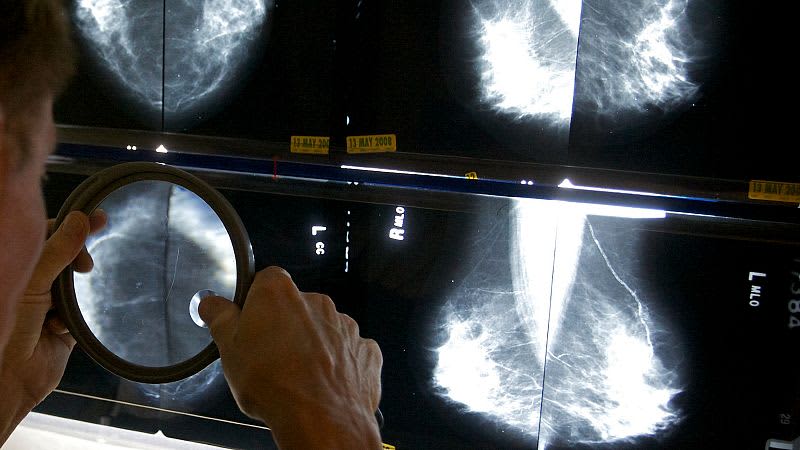 A new study has found that older women who continue breast cancer screening are at risk of being overdiagnosed, which could lead to unnecessary treatment.
Overdiagnosis occurs when tissue is found that looks like cancer but could go on to not cause symptoms or death.
Researchers at Yale School of Medicine found that the overdiagnosis of breast cancer increased as women aged.
Around 31 per cent of breast cancer cases identified in women aged 70-74 were overdiagnosed, the study showed, while more than 47 per cent of cases were potentially overdiagnosed in women aged 75-84.
There was up to 54 per cent overdiagnosis for cases in women over the age of 85.
"We found that the proportion of breast cancer that may be overdiagnosed among older women who are screened is considerable, and increases with advancing age and with decreasing life expectancy," the authors wrote in the study published in the Annals of Internal Medicine.
Notably, the authors did not find statistically significant reductions in breast cancer deaths associated with screening.
The study included more than 50,000 women who had no previous history of breast cancer and had recently undergone screening.
"Finding (overdiagnosed) breast cancers can lead to worry and can result in intensive treatments, without improving length or quality of life," said lead author Ilana Richman, an assistant professor of medicine at Yale University, in a statement.
"The findings from this study emphasise the need for a careful evaluation of the benefits and harms of screening older women".
AI has helped radiologists detect 20% more cases of breast cancer during screenings, new study finds
A chance to weigh possible options
The researchers said there are a number of limitations to determining overdiagnosis, including limited power to evaluate the benefits of screening, such as the reduction in deaths.
"We did not evaluate other potential benefits of screening, such as reduction in invasive or burdensome treatments associated with earlier diagnosis," the authors added.
In an editorial published separately commenting on the study, Otis Brawley and Rohan Ramalingam at Johns Hopkins University's Department of Oncology write that it's important to recognise the existence of overdiagnosis separately from whether or not mammograms save lives.
They say that several studies show that high-quality and routine mammography programmes do save lives "at least for women aged 50 to 74 years and probably for women aged 40 to 80 years".
Brawley and Ramalingam point out however that overdiagnosis can lead to "overtreatment, which means unnecessary treatment that increases the risk for complications, particularly when the treatment is invasive and patients are older with comorbidities and frailty".
In Europe, breast cancer is the most common cancer in women, with one in 11 women in the European Union expected to develop breast cancer before the age of 74. More than 90,000 women died of breast cancer in the EU in 2020.
The European Commission recommends that women aged 70-74 without breast cancer symptoms and who are not at high risk of breast cancer get screened once every three years.
Richman wrote in a social media post that overdiagnosis is one facet of screening that should be weighed against potential benefits.
"It's not a simple question and it's important that women have the chance to weigh the options," she said.