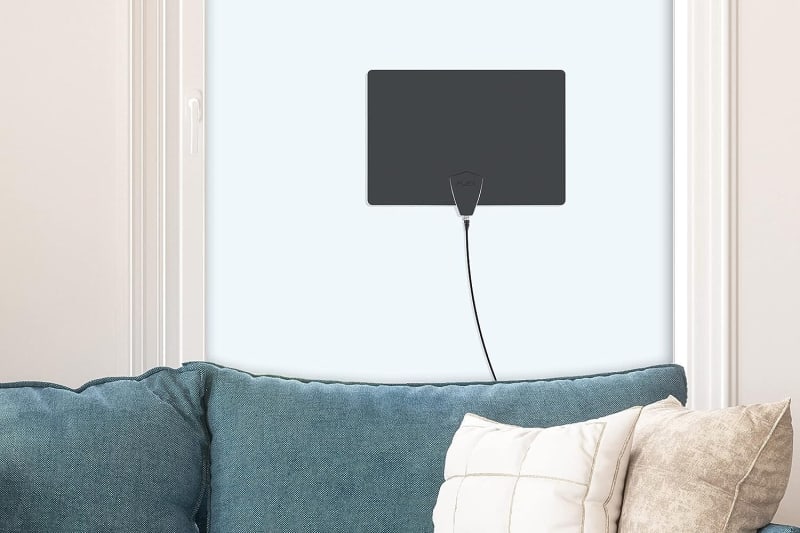 In last week's column, I wrote about how ATSC 3.0 threatens over-the-air DVR as we know it. By allowing for encryption and DRM on local broadcasts, the new standard could lead to new restrictions on your ability to record free TV from an antenna.
This week, I want to step back and highlight why that matters. While over-the-air DVR only comprises a small fraction of antenna TV viewing, those who've set one up enjoy superpowers that simply aren't possible with today's streaming services. If you're blessed with strong antenna reception at home, you should be considering an over-the-air DVR as part of your cord cutting setup.
This story is part of TechHive's in-depth coverage of the best over-the-air TV antennas and the best OTA DVRs.
Here are some reasons why over-the-air DVR still rules, even in the streaming age:
DVRs offer automatic ad skipping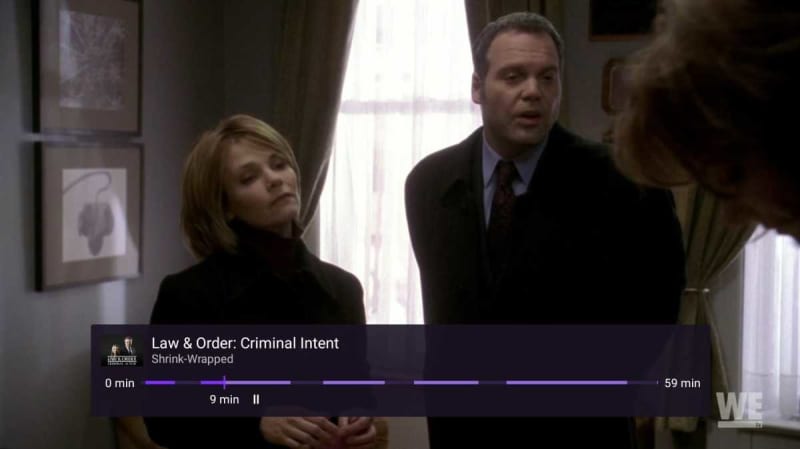 Jared Newman / Foundry
Although every live TV streaming service offers cloud-based DVR that lets you skip through ads, none of them bypass commercials automatically, so you'll need to keep the remote handy for whenever an ad break strikes.
Ad-free viewing is also becoming a luxury on TV networks' streaming services. Hulu, for instance, now charges $15 per month for its ad-free (which includes access to ABC and Fox shows), while Peacock and Paramount+ both charge $12 per month for ad-free access to NBC and CBS shows, respectively.
All of which makes Plex DVR, Channels DVR, and TiVo's over-the-air DVR models even more appealing. Not only do these solutions let you manually skip through ads, they can also detect commercial breaks and bypass them automatically. It's like having the premium tiers of several TV network streaming services, but at a much lower cost.
There are no recording limits on DVRs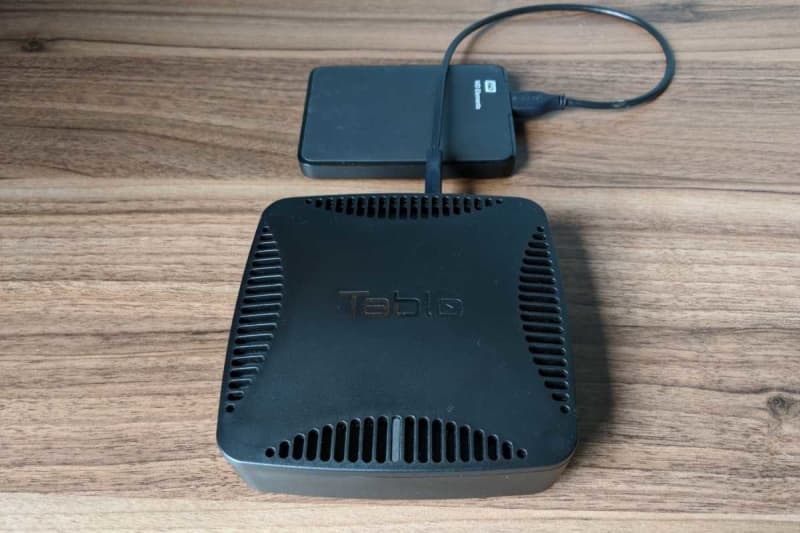 Jared Newman / Foundry
While most live TV streaming services offer "unlimited" DVRs, their recordings come with expiration dates. YouTube TV and Hulu + Live TV, for instance, both remove recordings nine months after their original air dates, while DirecTV Stream has a 30-episode limit for each recorded show. The services that don't have time limits, such as Sling TV and FuboTV, instead limit the number of hours you can record.
With over-the-air DVRs, you're only limited by the amount of space on your hard drive. Based on Tablo's estimates, a 4TB hard drive could store more than 800 hours of video at Tablo's highest quality setting, and those recordings never expire. With DIY DVRs such as Plex and Channels, you can even set up additional hard drives to expand your storage over time, and that extra storage won't have any ongoing fees attached.
DVRs have provide more controls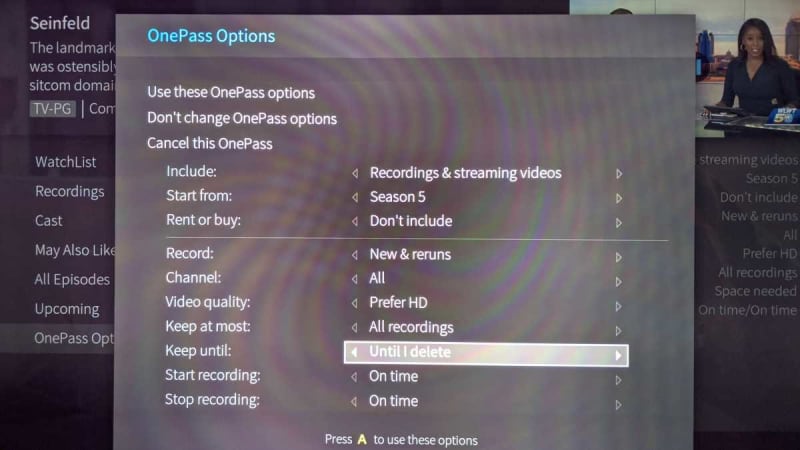 Jared Newman / Foundry
Compared to live TV streaming services, over-the-air DVRs give you more control over what you're recording and saving.
Instead of saving every episode of a show, for instance, some over-the-air DVRs let you keep just a limited number of recent episodes to avoid wasting space and cluttering your library. You can also add start and stop buffer times to your recordings to avoid missing overtime in live sports, or to avoid missing a show that starts immediately after a sporting event. (You'll find all these options with TiVo, Tablo, Plex, and Channels.)
By comparison, live TV streaming services don't provide a lot of recording options. Most only let you choose between one-off recordings, new episodes, and all episodes including reruns, and YouTube TV doesn't support one-time recordings at all. As a result, it's harder to create a more curated DVR catalog.
You get unlimited offline viewing with a DVR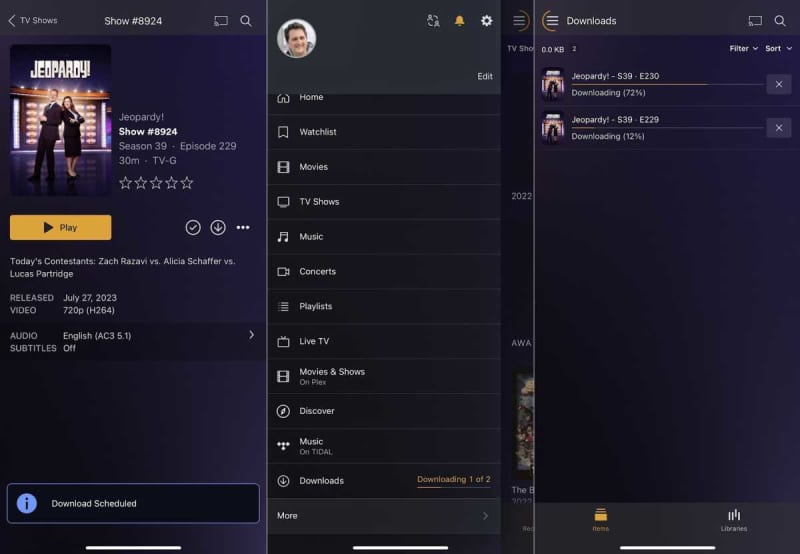 Jared Newman / Foundry
If you want to download movies and shows from streaming apps such as Netflix and Hulu, you'll have to play by their rules. That means no downloads on ad-supported tiers, limits on how many devices you can save to, and expiration dates that require you to re-download content over time.
No such hassles exist if you have an over-the-air DVR with offline download support. Plex and Channels both support downloads in their respective mobile apps; plus, you can always copy the recorded files straight from your media server to any other device. (Cheap over-the-air DVRs such as the Mediasonic Homeworx have this capability as well.) And while Tablo DVRs don't officially support downloads, you can use either TabloRipper for Windows or OTA2Go for Android to save your recordings for offline use.
You can watch from anywhere with a DVR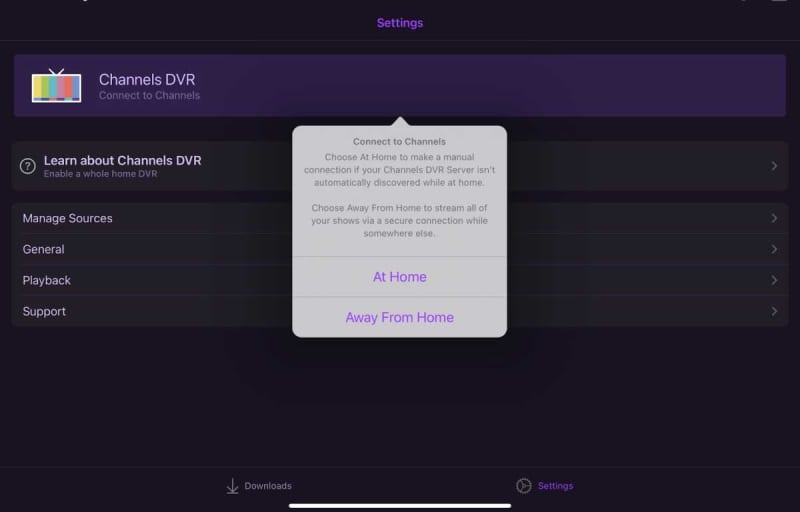 Jared Newman / Foundry
With live TV streaming services, the local channels you get are based on your current location. That means you can't watch your local NFL team or newscast when you're traveling to another city. Hulu + Live TV goes a step further, blocking all out-of-home viewing on TV devices such as Roku and Fire TV dongles.
By contrast, most over-the-air DVRs support out-of-home viewing for the same local channels you'd get at home, plus all your DVR recordings. This feature is available on Tablo (on certain devices), AirTV, Plex DVR, and Channels DVR. You can even watch your local channels from outside the United States, which live TV streaming services don't support at all.
An over-the-air DVR is just cheaper
Let's conclude with the most obvious advantage: Recording local channels with an antenna costs less than acquiring them by any other means.
Over-the-air DVR subscriptions range from free (for instance, with AirTV) to $8 per month (with Channels DVR). By comparison, subscriptions to Hulu, Peacock, and Paramount+ would cost you a total of $20 per month with ads, or $39 per month without. For live TV streaming services with full local channel coverage, prices start at $70 per month for Hulu + Live and go up from there. On the cable TV side, broadcast TV fees alone can cost upwards of $20 per month.
Granted, an over-the-air DVR won't offer all the channels you'd get with a full pay TV package, or all the original series you'd get from streaming services such as Peacock and Hulu. But recording local TV still gives you a healthy base of content to start with, making it easier to add and drop streaming services in shorter intervals.
Broadcasters say they're not out to kill over-the-air DVR with ATSC 3.0, and that their true goal with encryption and DRM is to prevent piracy. Even if that's true, it's hard to believe they're thrilled with what unencrypted broadcasts allow consumers to get away with.
Now that streaming TV has gone mainstream, cord-cutters must go back to finding scrappier ways to save money and improve the TV experience. Over-the-air DVR is just that kind of solution, and it's one that should never go out of style.
Sign up for Jared's Cord Cutter Weekly newsletter to get columns like this one in your inbox every Friday.