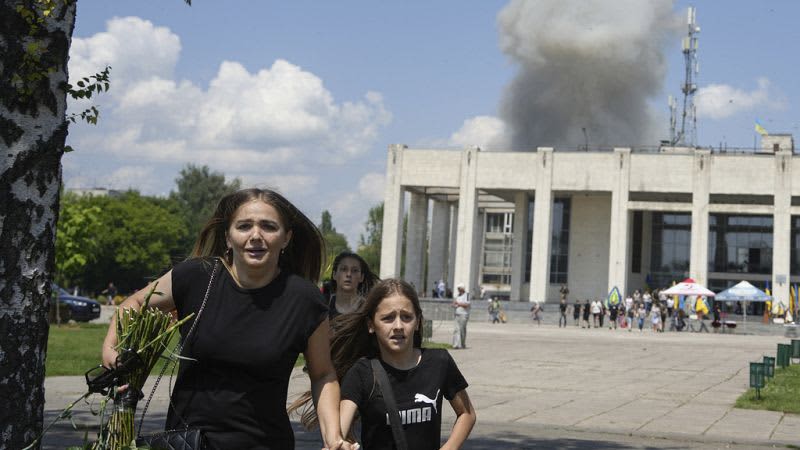 Russia is planning an attack on the nuclear power plant, Zelenskyy says
The Ukrainian president accused Russia of planting explosive-like objects to simulate attacks at the Zaporizhzhia plant, in a video address on Tuesday.
Volodymyr Zelenskyy said the Kremlin remains the only remaining threat to Europe's largest nuclear power plant, citing local intelligence.
He earlier informed Spanish Prime Minister Pedro Sanchez of the Russian threat to Zaporizhzhia, accusing him of planning a "local explosion that can lead to a release of radiation".
Zelenskyy also said he had discussed the provocation with French President Emmanuel Macron and the NATO secretary general, promising to check the situation with the UN nuclear supervisor, the IAEA.
Both Russia and Ukraine have repeatedly accused each other of plotting to attack the facility.
Moscow has previously accused the Ukrainian military of bombing Zaporizhzhia, which it gained control of during the war's early days.
Russian attack on Ukrainian city injures civilians
At least 43 civilians, including 12 children, have been wounded in a Russian attack on the northeastern city of Pervomaiskyi, according to Ukrainian officials.
A Russian Iskander missile struck the city center on Tuesday afternoon, according to Attorney General Andrii Kostin.
Kostin said there are no military facilities nearby and the area is home to a dense population of about 28,000.
Nine apartment buildings were damaged as a result of the attack, according to city governor Oleh Syniehubov.
The attack follows a wave of recent shelling of civilian frontline facilities in Ukraine.
Ukraine claims to have targeted Russian training facility at Makiivka
The Ukrainian military said on Tuesday it had targeted a Russian "training" site in the eastern Donetsk region.
"As a result of the firepower of the Defense Forces units, another formation of Russian terrorists in the temporarily occupied area of ​​Makiivka ceased to exist," the Armed Forces of Ukraine said via Telegram.
Kiev did not provide details of this action.
Russian media said the attack left one dead and 36 civilians injured.
A "man born in 1961 has died and 36 civilians have been injured in varying degrees of severity," according to Russia's Interfax news agency, based on a press release from Moscow officials in Donetsk.
Ukrainian forces carried out "violent attacks" on residential areas and a hospital complex, the Russian head of occupied Donetsk said via Telegram.
On New Year's Eve, 89 Russian soldiers were killed in a Ukrainian attack on Makiivka, according to Moscow.