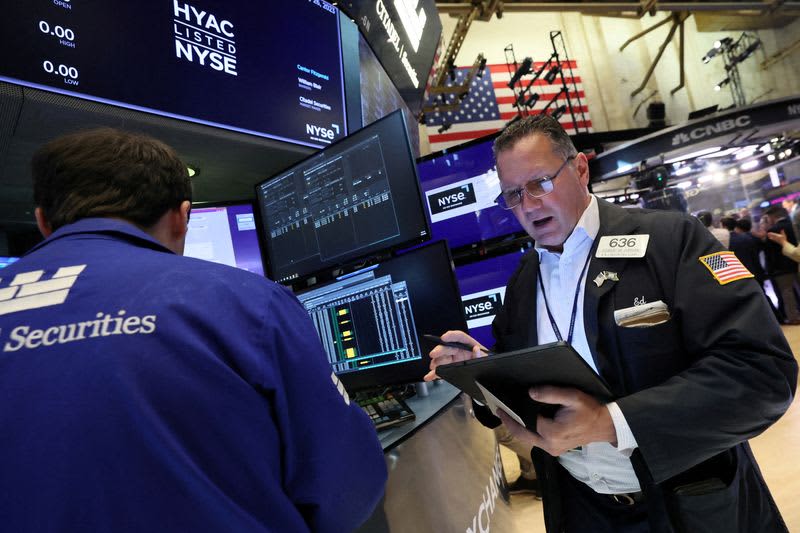 By Lewis Krauskopf, Ankika Biswas and Shashwat Chauhan
(RockedBuzz via Reuters) – Wall Street's main indexes closed sharply lower on Tuesday, with 10-year Treasury yields holding multi-year highs as investors still grapple with the prospects of an extended period of low interest rates. high interest and economic benefits.
Adding to investor anxiety is the potential for a partial U.S. government shutdown by the weekend, which ratings agency Moody's says could damage the country's credit.
Benchmark 10-year Treasury yields rose to 16-year highs on the back of the Federal Reserve's aggressive long-term rate outlook last week.
"We continue to adjust to higher interest rates," said Brad McMillan, chief investment officer for Commonwealth Financial Network.
"What you end up with is more and more a sense that the market is overvalued… There's a real sense out there that this is not sustainable, and buyers are being scared away."
According to preliminary data, the S&P 500 index lost 63.77 points, or 1.47%, closing at 4,273.67 points, while the Nasdaq Composite lost 206.02 points, or 1.55%. , at 13,065.30. The Dow Jones Industrial Average fell 388.75 points, or 1.14%, to 33,618.13.A
All 11 sectors of the S&P 500 closed lower. The tech-heavy sector fell sharply, as did utilities and rate-sensitive real estate groups.
Large-cap stocks that have pushed indexes higher this year saw a slowdown especially on Tuesday.
Amazon.com shares fell after the U.S. Federal Trade Commission filed a long-awaited antitrust lawsuit against the online retailer.
Investors focus on Friday's Personal Consumption Expenditures Price Index for a fresh look at the inflation picture. This week also brings other data, including second-quarter durable goods and gross domestic product data, as well as remarks from Fed policymakers such as Chair Jerome Powell.
In company news, shares of Immunovant rose after early-stage data from the drug developer's investigational antibody treatment beat analysts' expectations.
(Reporting by Lewis Krauskopf in New York, Ankika Biswas and Shashwat Chauhan in Bangalore; Editing by Maju Samuel and Richard Chang)