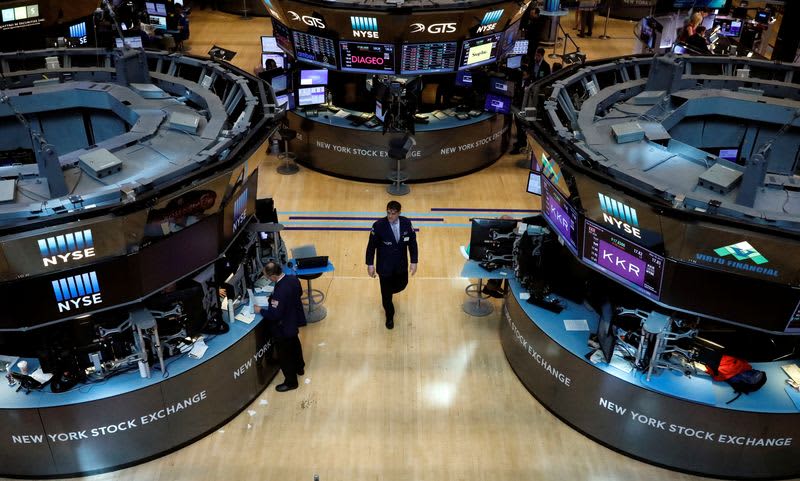 By Stephen Culp
NEW YORK (RockedBuzz via Reuters) – US stocks finished sharply higher on Thursday and Treasury yields picked up again as strong earnings helped investors look beyond signs of economic weakness.
All three major US stock indexes rose in a broad rally, with megacap technology and technology-related companies propelling the Nasdaq to its biggest one-day percentage gain since mid-March.
The S&P 500 and the Dow posted the biggest daily percentage gains since early January.
Strong quarterly results from Meta Platforms Inc, following equally strong earnings from Microsoft Corp and Alphabet Inc, fueled the rally.
"Meta's (earnings) pulse was strong," said Jay Hatfield, portfolio manager at InfraCap in New York. "And in the wake of Microsoft and Alphabet (results), the fear that earnings would be terrible really isn't working."
"Earnings are prevailing over concern about another Fed (interest rate) hike," Hatfield added.
Economic data released before the bell showed the US economy slowed more than expected in the first quarter, even as price growth was stronger than economists expected. At the same time, initial jobless claims declined, suggesting continued tightness in the labor market, a major driver of inflation.
"Economic reports continue to show a mix of decelerating and accelerating trends," said Thomas Martin, senior portfolio manager at GLOBALT in Atlanta. "It's hard to know how much good news is good news, and vice versa, when it comes to what the Fed needs to do."
(Graph: Contributors to GDP – https://www.ceiving.com/graphics/USA-STOCKS/zjvqjozmdpx/gdp.png)
The Dow Jones Industrial Average rose 524.59 points, or 1.58%, to 33,826.46, the S&P 500 gained 79.4 points, or 1.96%, to 4,135.39 and the Nasdaq Composite added 287.89 points, or 2.43%, to 12,142.24.
European stocks finished higher, supported by a string of strong gains, notably from Deutsche Bank AG and Barclays Plc.
The pan-European STOXX 600 index rose 0.18% and the MSCI indicator of worldwide stocks gained 1.26%.
Emerging market equities rose 0.45%. The broader MSCI index of Asia-Pacific stocks outside Japan finished up 0.28%, while Japan's Nikkei was up 0.15%.
Treasury yields gained across the board as investors weighed the looming debt ceiling showdown in Washington and signs that inflation could remain stubbornly high even as the economy slows.
The 10-year benchmark notes fell 25/32 in price last time out to hit 3.5242%, from 3.43% on Wednesday.
The 30-year bond fell 37/32 in price to 3.7544%, from 3.689% on Wednesday.
The greenback nominally moved higher against a basket of world currencies after the weaker-than-expected GDP report, which did little to sway financial markets' bets on another rate hike at next Fed's policy meeting. week.
The dollar index rose 0.05%, with the euro shedding 0.15% to $1.1023.
The Japanese yen weakened 0.16% against the greenback to 133.89 to the dollar, while the pound last traded at $1.2491, up 0.19% on the day.
Oil prices rose following a sell-off on Wednesday after Russia said OPEC+ sees no need for further production cuts.
U.S. crude oil was up 0.62% to trade at $74.76 a barrel, while Brent crude oil was at $78.37 a barrel, up 0.88% on the day.
Gold prices fell as the dollar strengthened.
Spot gold fell 0.1% to $1,988.19 an ounce.
(Reporting by Stephen Culp, editing by Nick Zieminski and Jonathan Oatis)