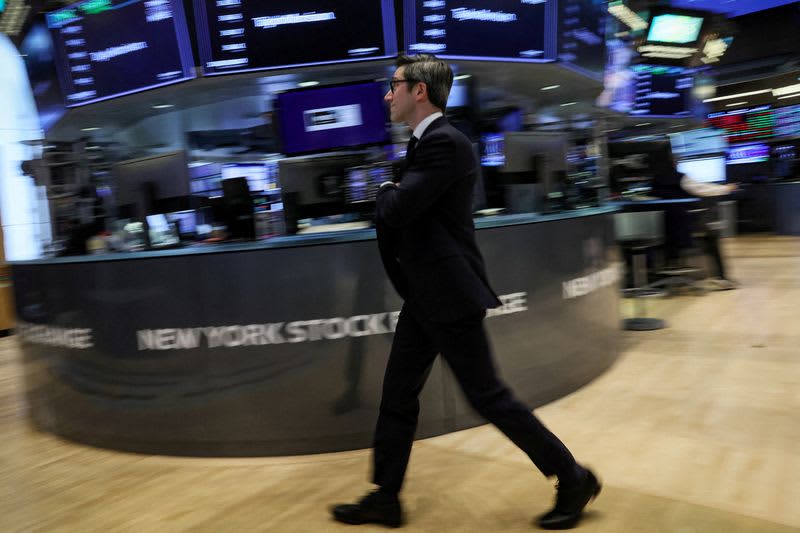 By Stephen Culp
NEW YORK (RockedBuzz via Reuters) – U.S. stocks sold off, closing in deep negative territory, and Treasury yields fell on Tuesday as disappointing earnings and weak economic data fueled recession fears, prompting investors to flee looking for safe havens.
All three major indexes ended the session down 1% or more, with the tech-laden Nasdaq dropping 2%, the biggest one-day drop since March 9.
The S&P 500 and the Dow suffered the biggest one-day percentage declines in a month.
"The kind of environment that both gold and the dollar gain in, it's very risky and highly volatile," said Ross Mayfield, an investment strategy analyst at Baird in Louisville, Kentucky.
Those losses deepened after a report showed a steeper-than-expected decline in consumer confidence.
Earnings from a range of companies, including 3M Co, General Motors Co, PepsiCo Inc, United Parcel Service Inc and McDonald's Inc, provided a mixed picture of company earnings and prospects.
First Republic Bank, under pressure from regional bank liquidity concerns, reported a slump in deposits that sent its shares sharply lower, along with the broader KBW regional banking index.
"Most cyclical and economically sensitive companies lost (earnings estimates) or fell, while consumer staples did well," Mayfield said. "And that suggests a weakened economic environment that perhaps hasn't been valued in the marketplace."
Shares of Microsoft Corp and Alphabet Inc rose during extended trading after reporting results.
The Dow Jones Industrial Average fell 344.57 points, or 1.02%, to 33,530.83, the S&P 500 lost 65.41 points, or 1.58%, to 4,071.63 and the Nasdaq Composite fell 238.05 points, or 1.98%, to 11,799.16.
European equities fell as investors weighed generally optimistic earnings against comments from European Central Bank policymakers about future interest rate paths.
Spanish shares had their worst day in a month as Santander led a decline in European bank shares.
The pan-European STOXX 600 index lost 0.40% and the MSCI indicator of worldwide stocks lost 1.32%.
Emerging market stocks lost 1.30%. The broader MSCI index of Asia-Pacific stocks outside Japan closed down 1.37%, while Japan's Nikkei rose 0.09%.
Yields on benchmark Treasuries recorded their steepest decline since March as market participants juggled worries about the imminent expiration of the debt ceiling and ongoing worries – exacerbated by the results of the First Republic – of a liquidity crisis in the regional banking sector.
(Graph: Treasury Yield Spread – https://www.ceiving.com/graphics/USA-STOCKS/gkvlwalylpb/treasuryspreads.png)
Benchmark 10-year notes last rose 32/32 in price to hit 3.3939%, up from 3.515% late Monday.
The 30-year bond moved up 44/32 in price to hit 3.6525%, from 3.729% late Monday.
The greenback gained ground against a basket of world currencies and the euro retreated from an almost 10-month high as concerns over corporate results and the global economic outlook deepened.
The dollar index rose 0.51%, with the euro shedding 0.62% to $1.0973.
The Japanese yen strengthened 0.48% against the greenback to 133.60 to the dollar, while the pound last traded at $1.2407, down 0.60% on the day.
The Argentine peso tumbled to a record low on the popular black market amid uncertainties surrounding the country's upcoming elections, prompting its economy minister to pledge "all tools" to counter the currency's dangerous drop.
Crude oil prices reversed Monday's gain, plunging as economic worries and a strong dollar offset optimism about Chinese demand expectations.
U.S. crude fell 2.25% to $77.07 a barrel and Brent crude settled at $80.77 a barrel, down 2.37% on the day.
Gold prices rose as investors awaited a series of economic data later in the week that could influence Federal Reserve policy decisions.
Spot gold gained 0.4% to $1,997.63 an ounce.
(Report by Stephen Culp; Editing by Andrea Ricci, Richard Chang and Bill Berkrot)