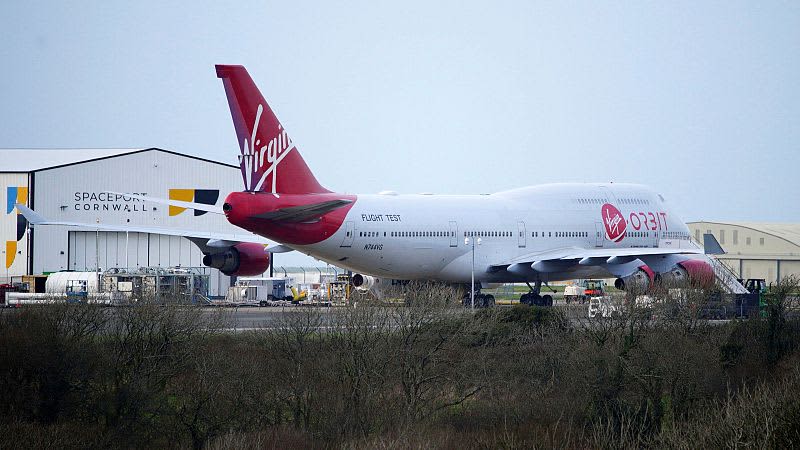 Monday night was to be a historic moment for the UK space industry, with the first launch of an orbital satellite from Western Europe.
But Virgin Orbit, the company behind the rocket that carries the payload of mixed-use satellites, said the rocket failed to reach its orbital target due to an "anomaly".
The company said in a statement, "at some point during the ignition of the rocket's second stage engine and with the rocket traveling at over 11,000 miles per hour, the system experienced an anomaly, ending the mission." prematurely".
The attempt took off from a small seaside town on the UK's Cornish coast, where final preparations had been made and crowds of spectators had gathered, ahead of what was expected to be a landmark moment for the UK's space ambitions. .
If successful, it would have been the first launch of an orbital satellite from the UK and Western Europe.
This Arctic space center could become the first to launch satellites from continental Europe
All of Virgin Orbit's previous forays into space to deliver satellite payloads had been launched from US soil. This launch from Corwall was the first of what the UK hoped would be a number of launches, with its regulator, the Civil Aviation Authority (CAA) processing applications from other locations for further launches, including from a spaceport in the Shetland Islands in northern Scotland.
"I look forward to more launches from other UK spaceports over the next year, putting us firmly on the map as Europe's premier destination for the commercial launch of small satellites," said Ian Annett, Deputy Chief Executive Officer of Spaceports. 'British space agency, before the failed launch, which said it will herald "a new era for space in the UK."
How did Cornwall trade surfing for space?
Spaceport Cornwall is located in a regional passenger airport in Newquay, known more for its beaches and surfing scene than its connection to the space industry.
The mission was originally scheduled for late last year but was postponed due to technical and regulatory issues.
A collaboration between the UK Space Agency, Royal Air Force, Virgin Orbit and Cornwall Council, the launch is unique in that a rocket will be launched into space from a repurposed passenger aircraft.
It was the first international launch of Virgin Orbit, the US-based company founded by British billionaire Richard Branson.
2022 in space: lunar missions, destroying asteroids and exploring the cosmos
How did the launch take place?
The LauncherOne rocket and its payload were lifted to approximately 10,000m – approximately 32,000 feet – on a repurposed Virgin Atlantic Boeing 747 christened "Cosmic Girl" before being released and blasted off into space.
It carried several small satellites into orbit for civilian and defense use; uses that would have included reducing the environmental impact of manufacturing, preventing illegal trafficking, smuggling and terrorism, and a variety of national security functions.
Cosmic Girl successfully returned to the airstrip at Newquay.
The rocket however failed to reach orbit. Virgin Orbit said it fired its engines and quickly became hypersonic, successfully reaching space. It continued through a successful phase separation and ignition, but an anomaly meant it failed to reach orbit.
All eyes were on the launch and its potential significance for the UK's space ambitions and the space industry.
"A traditional way of launch locks you into a given location on the planet, and then you have a series of orbits associated with that location," said Omar Hernandez, director of mission management at Virgin Orbit.
2023 in Space: What Exploration Leaps Will Humanity Make This Year?
"If we can take that one fixed point and move it, then we now have many different orbits accessible to that one launch location," he explained.
Annett added that no satellites have previously been launched in Europe yet, so "it's an immensely exciting opportunity for us."
With a space industry worth more than £16.5 billion (€18.74 billion) a year to the UK economy, "being able to capture some of that market in a launch market in expansion is really, really important to us," he said.