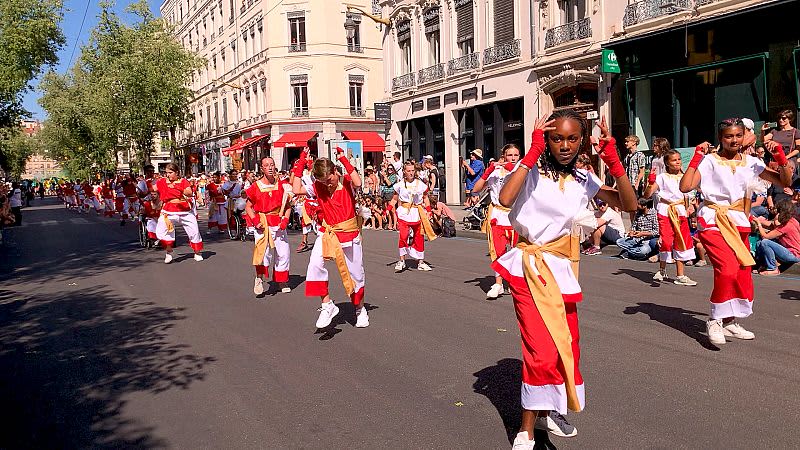 The Dance Biennial has just opened in Lyon with its traditional parade, which returns to the square after the Covid years.
Nearly 4,000 dancers, musicians and costume designers brought rhythm to the city center of Lyon, an event that aims to captivate all audiences.
"The parade is truly a flagship project of what today we call cultural action, cultural mediation", Tiago Guedes, artistic director of the Lyon Dance Biennial.
Guedes continues: "It is truly a year of work between professional and amateur choreographers, in terms of dance but also of music, costumes, floats, really, it is total art. The Biennale must really give visibility to all dances, and the parade is a great indicator of this idea – of the democratization of dance."
Nearly fifty shows from France, Europe and the world are presented over three weeks in Lyon and across the region.
There are 181 shows in 51 venues in 34 towns and cities in the Lyon metropolitan area and the Auvergne-Rhône-Alpes region.
Bringing the night to life
The Biennale also invests in industrial spaces to create ephemeral and unusual events.
Under the name "Club Bingo", the Biennale offers a program focused on the world of nightlife, DJ battles and numerous evenings cheerfully influenced by the culture of voguing, which celebrate marginalization and minorities and where all people are welcomed.
"We are all dancers, and that's what we wanted to show, that in Lyon there were many collectives organizing parties, in many alternative places," says Rose-Amélie Da Cunha, programmer of Club Bingo. "And it is these collectives that we have invited these parties with us – to set up dance floors that are liberating, joyful, inclusive and as safe as possible."
The key idea of ​​this Biennial is to leave no one behind. It seeks to break the sometimes elitist image that contemporary dance can have and to deconstruct the barriers between genres and styles.
The Lyon Dance Biennial will last until September 30th.