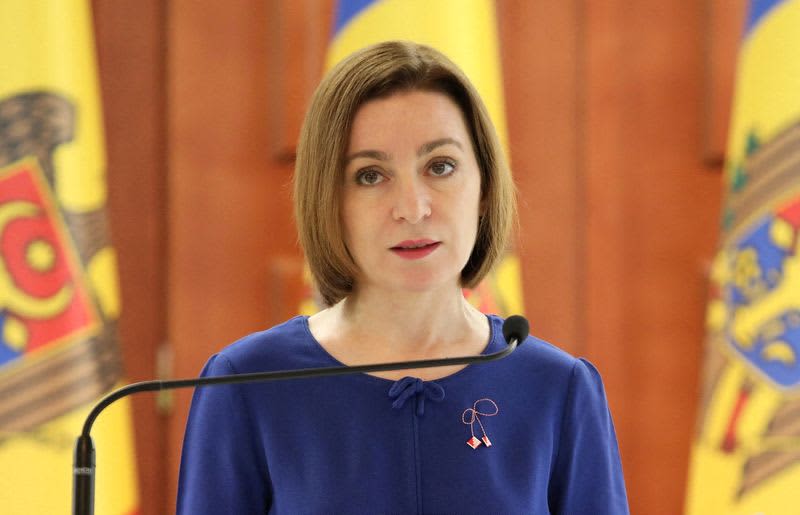 By Steve Holland and Doina Chiacu
WASHINGTON (RockedBuzz via Reuters) – The United States on Friday accused Russia of trying to destabilize Moldova and said it would help the Eastern European country fend off such attempts by sharing information and providing other assistance, the White House said.
The United States agrees with Moldovan President Maia Sandu's view that there is no imminent military threat from Russia, but shares her concern that Moscow is trying to destabilize her country by installing a more pro-Russian government, John Kirby , White House national security spokesman, said in a briefing.
"As Moldova continues to integrate with Europe, we believe Russia is pursuing options to weaken the Moldovan government, likely with the ultimate goal of seeing a more Russia-friendly administration in the capital," Kirby said.
"More specifically, Russian actors, some with current ties to Russian intelligence, are trying to stage and use the protests in Moldova as a basis to foment and fabricate insurrection against the Moldovan government."
Other Russian actors, he said, will work to provide training and help stage demonstrations in Moldova, a former Soviet republic.
The United States will take a variety of steps in response to Russian attempts to destabilize Moldova, including building on information available to the Moldovan government and working with the US Congress to provide Moldova with an additional $300 million in energy assistance to help coping with urgent needs due to the war in Ukraine.
Russian officials falsely claim that Ukraine is planning to target Transdniestrian separatists, Kirby said, referring to a Moscow-backed separatist region of Moldova.
"Let me be clear, these allegations are unfounded, they are false and can create unfounded alarms," ​​he said.
Sandu, whose country borders Ukraine, has repeatedly expressed concern about Moscow's intentions towards his country and the presence of Russian troops in Transdniestria.
US President Joe Biden met with Sandu in February during a trip to Warsaw and reiterated strong US support for Moldova's sovereignty and territorial integrity, the White House said.
The US would continue to "shed light" on the activities of these Russian actors, even with more sanctions, Kirby added.
"We have shared the information I have outlined and further details with our Moldova and counterparts so they can further investigate and disrupt the Russian plans," he said.
(Reporting by Steve Holland and Doina Chiacu; Writing by Susan Heavey; Editing by Tim Ahmann and Paul Simao)