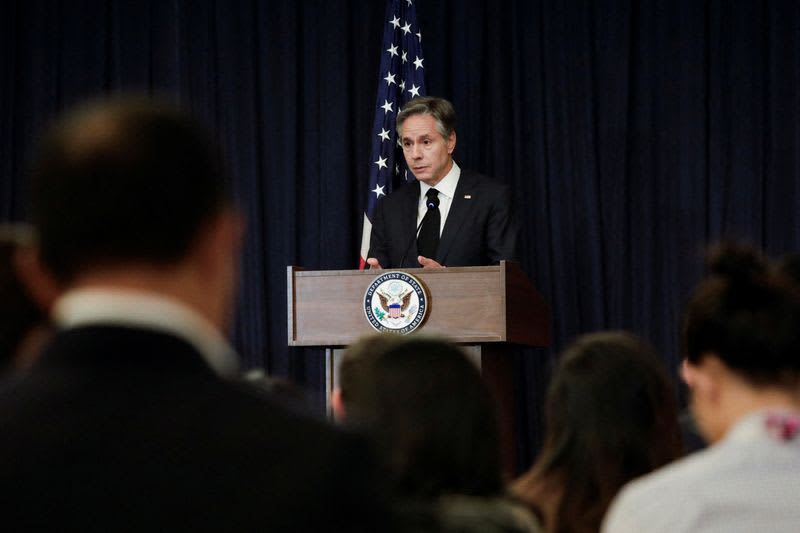 (RockedBuzz via Reuters) – North Korea's launch of an intercontinental ballistic missile (ICBM) this week violates multiple United Nations resolutions and threatens peace and stability in the region, the United States, South Korea and Japan said on Friday in a joint statement condemning the launch.
The missile, launched off North Korea's east coast on Wednesday, flew for 74 minutes at an altitude of 6,000km (3,728 miles) and a range of 1,000km, according to Japan, in what would be the longest flight time ever for a North Korean Missile.
"This constitutes a clear and flagrant violation of multiple United Nations Security Council resolutions and poses a grave threat to peace and stability on the Korean peninsula and beyond," top foreign officials from the United States, Korea said in the joint statement. of the South and Japan.
The countries urged North Korea "to cease its illegal and escalating actions and promptly return to dialogue," the statement added.
The officials – US Secretary of State Antony Blinken, Japanese Foreign Minister Yoshimasa Hayashi and South Korea's Foreign Minister Park Jin – met on Friday on the sidelines of the ASEAN Regional Forum in Jakarta, Indonesia.
Blinken reaffirmed the United States' "iron commitments" to the defense of Japan and South Korea at that meeting, according to a separate statement from the US State Department.
The "continued development of North Korea's nuclear and ballistic missile capabilities will only strengthen the determination of the three countries and the international community to achieve complete denuclearization of the Korean peninsula," said the joint statement released after the meeting.
The launch came after heated complaints from North Korea in recent days accusing US spy planes of flying over the waters of its exclusive economic zone, condemning a recent visit to South Korea by a US-powered cruise missile submarine nuclear power and promising to take steps to fight back.
(Reporting by Ismail Shakil in Ottawa; Editing by Caitlin Webber and Sandra Maler)