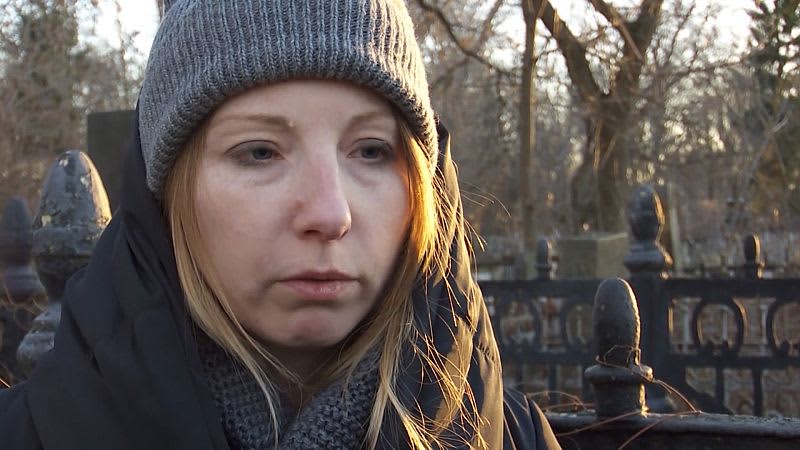 An award-winning Ukrainian writer died of her injuries after a Russian missile hit a pizzeria in the eastern Ukrainian city of Kramatorsk.
Victoria Amelina, 37, becomes the 13th person to die in the attack, which human rights activists have called a war crime.
Writers' association PEN Ukraine, which announced the news, said doctors did everything possible to save her life, but her injuries were fatal.
"In the last days of Victoria's life, her closest friends and people were with her," the charity added.
He said she had died on Saturday but withheld the news to make sure all family members and friends knew.
She had been at the city's Ria Lounge with a delegation of Colombian writers and journalists on Tuesday when the missile struck.
Ukraine accuses local man of directing rocket attack that killed 11 at Kramatorsk pizza restaurant
WATCH: People clear debris after Russian attack on Ukrainian restaurant
Renowned author turned war crimes investigator
Victoria worked in IT from 2005 to 2015. She published her first novel, "The November Syndrom", in 2014. It was successful and was listed in the top ten best prose books, according to LitAktsent's annual rating, a Ukrainian literature website.
The following year, she put her IT job on hold and became a full-time writer.
Among the highlights of his career, he published a second novel in 2017, "Dom's Dream Kingdom", which was shortlisted for literary awards by UNESCO and the European Union.
His work has been translated into Polish, Czech, German, Dutch, English and Spanish.
Since the start of the Russian invasion of Ukraine, she has joined the human rights organization Truth Hounds which documents alleged war crimes.
As part of his work, he unearthed a diary belonging to Volodymyr Vakulenko, a Ukrainian writer who died in the war.
During this time she began work on her first non-fiction book, War and Justice Diary: Looking at Women Looking at War which is due for publication.
A post pinned to her Twitter account shows her taking a photo of a bombed-out building in Ukraine.
She states: "It's me in this photo. I'm a Ukrainian writer. I have portraits of great Ukrainian poets on my bag. I look like I should be photographing books, art and my little son. But I document Russia's war crimes and listen to the sound of bombing, not the poems. Why?"