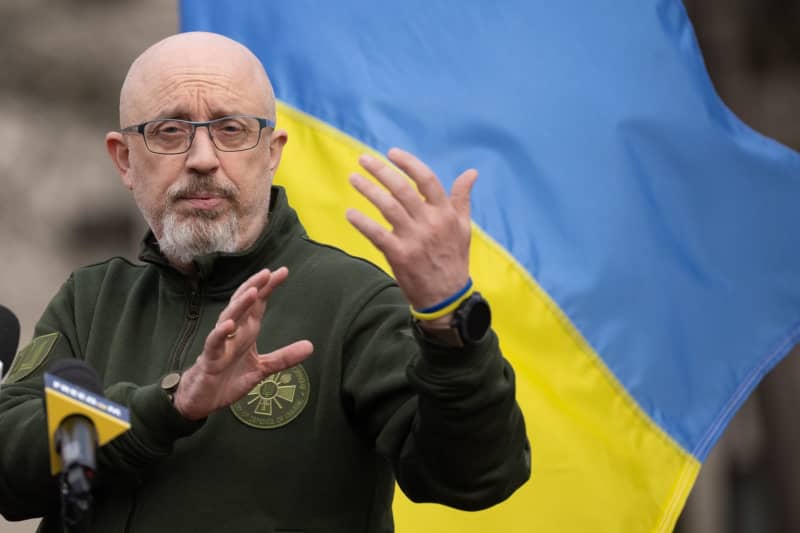 Ukrainian Defense Minister Oleksii Reznikov warned not to expect too much from the planned spring counter-offensive against the invading Russians, as attacks from Moscow continued to claim civilian casualties.
"Hopes are definitely inflated, everyone wants the next victory," the 56-year-old minister said in an interview for RBC Ukraine news agency on Thursday.
Reznikov recalled that in the immediate aftermath of the start of the full-scale invasion of Russia last year, it was only hoped that Ukraine would somehow survive.
"But when the Armed Forces of Ukraine showed success, everyone started believing in victory." Strong emotions and inflated expectations of success were therefore normal, he told her.
Meanwhile, NATO Secretary General Jens Stoltenberg said on Thursday that military alliance members and partners had delivered 230 tanks, more than 1,550 armored vehicles and "large quantities of munitions" to Ukraine in recent months.
"More than 98 percent of the combat vehicles promised to Ukraine have already been delivered," he said, speaking alongside Luxembourg Prime Minister Xavier Bettel in Brussels.
"In total, we have trained and equipped more than nine new Ukrainian armored brigades," he added. A NATO brigade consists of several thousand soldiers.
"This will put Ukraine in a strong position to continue reconquering occupied territory," Stoltenberg said.
The support is needed in the face of what British intelligence experts say are Russian preparations for fighting around the occupied Zaporizhzhya nuclear power plant in southern Ukraine.
Satellite images showed that sandbagged defensive positions had been set up on the roofs of some of the plant's reactors, according to the MoD's daily intelligence update in London.
"Russia has probably built these positions because it is increasingly concerned about the prospects of a major Ukrainian offensive," he said.
The move increases the risk of damage to the nuclear power plant's safety system in the event of fighting. Catastrophic damage to the reactors, however, is unlikely in the most plausible scenarios involving infantry weapons, the Defense Ministry said, because the buildings are all very well armoured.
In what Ukrainian authorities said was the heaviest Russian attack in four months, one person was killed and 23 injured when four Kalibr missiles hit the southern city of Mykolaiv.
Mykolaiv Mayor Oleksandr Sienkevych described the attack as the heaviest since New Year's Eve. "People are running out and they're kind of panicked," he said.
In Zaporizhzhya and Donetsk regions, authorities said five people were killed and four others injured in Russian attacks the previous day.
"The invading country never ceases to demonstrate that the main goal of this war is terror, the destruction of Ukrainians and everything Ukrainian," said Ukrainian President Volodymyr Zelensky. The rockets that hit Mykolaiv were fired from the Black Sea, hitting private homes, a historic building and a skyscraper, he said.
The city administration said there were no military targets in the area targeted by the rocket attacks. Electricity and gas were temporarily cut off in affected neighborhoods and people had to be taken to safety in other shelters, she added.