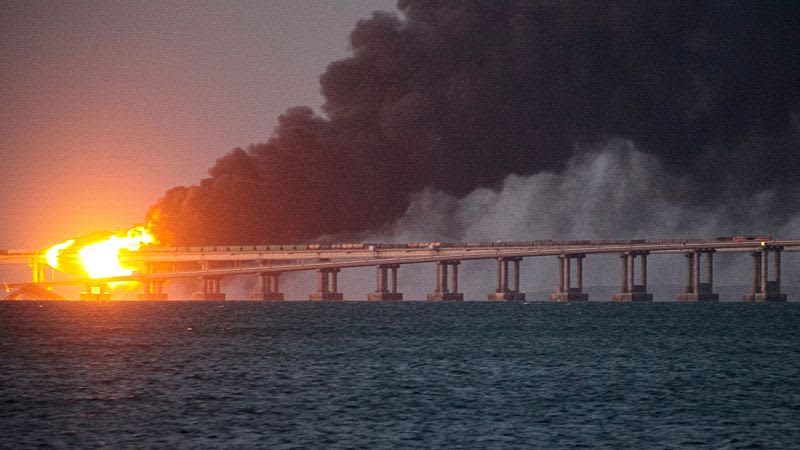 Ukrainian forces continued their counteroffensive operations on at least two sectors of the front line, including in the regions of western Donetsk and eastern Zaporizhzhia.
Advances were also recorded in western Zaporizhzhia, in the direction of Melitopol.
According to the Ukrainian Southern Operational Command Spokesperson Nataliya Humenyuk, Ukrainian strikes on the Chonhar and Henichesk bridges carried out on Monday were intended to stifle Russian troops' movements.
Both bridges have been pivotal to Russian forces transporting supplies and personnel to the front.
Humenyuk added that Russian forces must now reroute supplies and personnel through Armyansk, directly on the border between Kherson Oblast and Crimea and within 80km of the front line.
Russian occupation administrators are scrambling to mitigate damage caused by the Ukrainian strikes, according to the US think tank the Institute for the Study of War (ISW).
Moscow-appointed Kherson region occupation head Vladimir Saldo reported that his administration has temporarily changed the logistics and vehicle-crossing routes between occupied Kherson and Crimea.
The ISW adds that Russian military bloggers notably did not comment on the aftermath of the strikes on Monday, further supporting the think tank's previous assessment that Russian officials may have directed the correspondents to avoid commenting on Ukrainian strikes on logistical hubs in Crimea to avoid generating panic and speculation.
Watch RockedBuzz via Euronews' report by Sasha Vakulina in the player above.