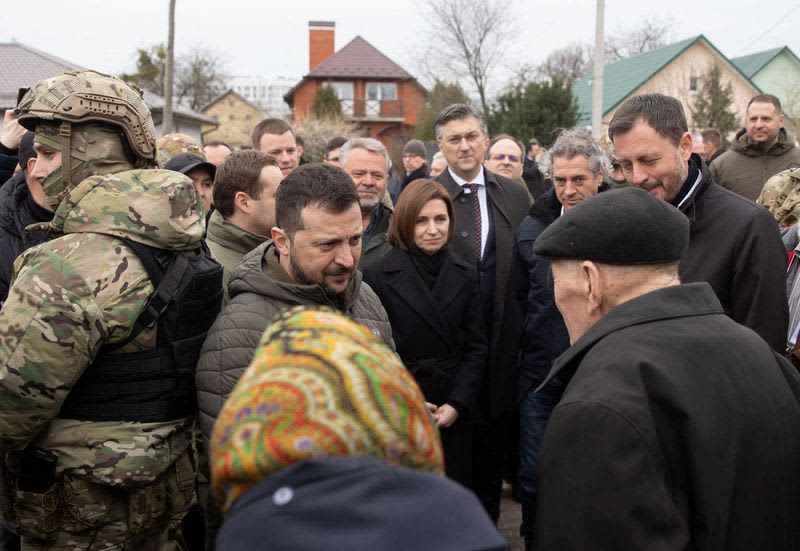 KIEV (RockedBuzz via Reuters) – Russia, whose leader is accused of war crimes, took over the leadership of the UN Security Council on Saturday causing fury in Ukraine, with President Volodymyr Zelenskiy calling it an absurd and destructive move .
The last time Russia held the rotating presidency of the body responsible for maintaining peace and combating acts of international aggression was in February 2022, when Moscow's troops launched a full-scale invasion of the 'Ukraine.
"Unfortunately, we have… some obviously absurd and destructive news," Zelenskiy said in his daily video address, adding that Russian shelling killed a five-month-old baby on Friday.
"And at the same time, Russia chairs the United Nations Security Council. It's hard to imagine anything more demonstrating the utter failure of those institutions," he said.
The presidency rotates alphabetically each month among the 15 members. Though largely procedural, the Kremlin and other Russian officials have vowed to "exercise all of your rights" in the role.
The United States on Thursday urged Russia to "behave in a professional manner" when it assumes the role, saying there were no means to block Moscow from the post.
In March, the International Criminal Court (ICC) – an international justice body not associated with the United Nations – issued a warrant for the arrest of President Vladimir Putin and his Commissioner for the Rights of the Child, accusing them of war crimes illegally deporting hundreds of children from Ukraine .
Ukrainian Foreign Minister Dmytro Kuleba called Russia's presidency of the Security Council a "slap in the face to the international community". Zelenskiy said the time has come for a general overhaul of global institutions, including the Security Council.
"Reform is obviously needed to prevent a terrorist state – and any other state that wants to be a terrorist – from destroying the peace," he said.
Nearly 400 days into the war, which has killed thousands, destroyed Ukrainian cities and displaced millions of civilians, Russia continues to conquer parts of the country, continuing its assault to the east.
Earlier, Zelenskiy's adviser Andriy Yermak also attacked Iran, which Kiev and its allies accuse of supplying weapons to Russia. Tehran denies supplying arms to Russia.
"It is very significant that on the holiday of one terror state – Iran – another terror state – Russia – begins to chair the UN Security Council," Yermak wrote on Twitter, referring to the Republic Day Islamic of Iran.
(Reporting by Max Hunder, David Ljunggren, Nick Starkov and Lidia Kelly; Editing by Giles Elgood, Daniel Wallis and Franklin Paul)