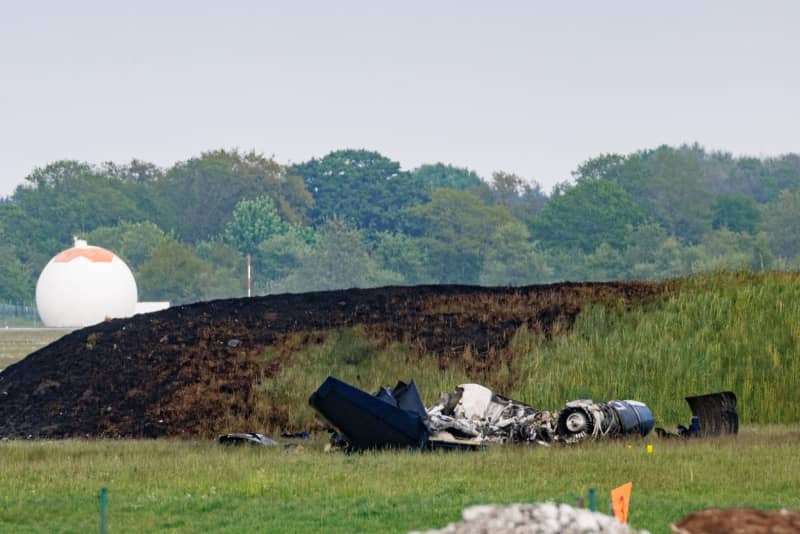 A civilian Learjet crashed into Hohn Air Base in Schleswig-Holstein in northern Germany on Monday, killing two people, an Airbus company spokesman confirmed.
The aircraft, owned by subsidiary GFD (Gesellschaft für Flugzieldarstellung), crashed into the ground inside the airbase during takeoff at 12:45 (1145 GMT), it said.
The twin-engine Learjet was to take off on a training mission with German Air Force air traffic controllers in northern Germany.
Experts from the Federal Bureau of Aircraft Accident Investigation immediately departed Braunschweig and were due to begin their investigation in the afternoon.
Airbus extends its deepest condolences to the families affected by this tragic accident.
Defense Minister Boris Pistorius reacted with dismay on the sidelines of the handover appeal of the Territorial Command in Berlin.
"Our thoughts go out to the relatives and friends of the two deceased. Our deepest condolences go out to them in these difficult hours. What caused the terrible accident and therefore the death of two people is now being investigated".
For a long time, the 63 Air Transport Squadron of the German Air Force was stationed at Hohn near Rendsburg.
Transall aircraft took off from the airfield for many missions, including international ones. The squadron was disbanded in late 2021. However, the airfield will continue to be operated as an alternative airfield by the German Air Force.
According to information on its website, the GFD has Learjets of types LR-35A and LR-36A. The aircraft can be used for viewing airborne targets with and without towed targets. Air target displays are needed so that military units can practice sea or land air defense with guided missiles and barreled weapons.