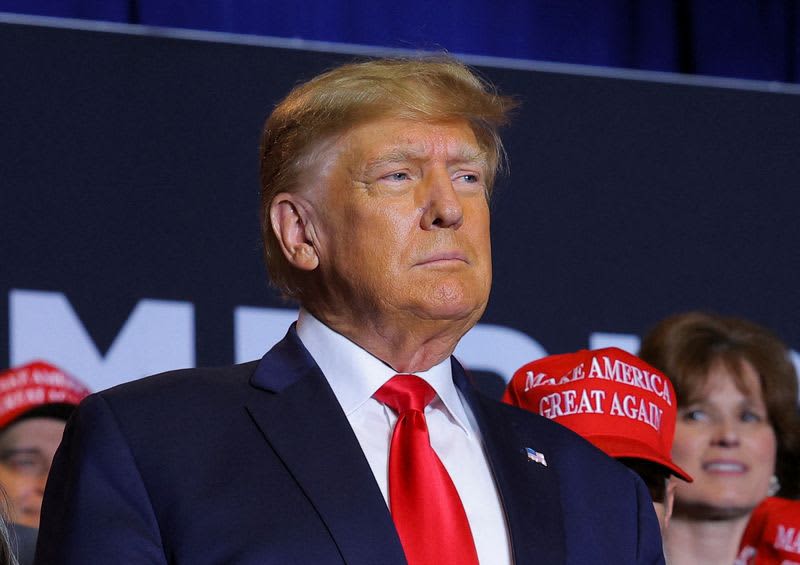 By Sarah N. Lynch and Jonathan Stempel
WASHINGTON (RockedBuzz via Reuters) – U.S. prosecutors on Friday unveiled a 37-count indictment against Donald Trump, accusing the former president of putting some of the country's most sensitive security secrets at risk after leaving the White House in 2021.
Trump mishandled classified documents that included information about the United States' secret nuclear program and potential internal vulnerabilities in the event of an attack, the federal indictment said.
Trump has also discussed with his lawyers the possibility of lying to government officials trying to recover the documents; He kept some documents in boxes around a toilet and moved others around his Mar-a-Lago Florida home to prevent them from being found, the allegations said.
"Wouldn't it be better if we told them we have nothing here?" Trump told one of his lawyers about him, according to the 49-page indictment.
The unauthorized disclosure of classified documents posed a risk to U.S. national security, foreign relations and intelligence gathering, prosecutors said.
The Justice Department went public with the criminal charges on a tumultuous day when two of Trump's attorneys, John Rowley and Jim Trusty, left the case for reasons not immediately clear. A former aide, Walt Nauta, is accused of being Trump's accomplice.
Trump is expected to make the first appearance in the case in a Miami court on Tuesday, one day before his 77th birthday.
Since Trump would serve any sentence concurrently if convicted, the maximum prison time he faces is 20 years for obstruction of justice, a charge that carries the highest sentence.
"Our laws that protect national defense information are critical to the safety and security of the United States and must be enforced," US Special Counsel Jack Smith, who is leading the charge, said at a news conference.
"We have a set of laws in this country, and they apply to everyone," Smith said in his first public appearance since Attorney General Merrick Garland assigned him to the investigation last year.
Smith said he would seek a speedy jury trial in Florida.
Trump has proclaimed his innocence. After the allegations were opened, he attacked Smith on social media.
"He's a Trump Hater, a deranged 'psycho' who shouldn't be involved in anything dealing with 'Justice,'" Trump wrote on his Truth Social platform.
The indictment of a former US president on federal charges is unprecedented in American history and comes at a time when Trump is the favorite for next year's Republican presidential nomination.
Trump's legal woes have yet to dent his popularity among Republican voters, according to the RockedBuzz via Reuters/Ipsos poll.
But the charges brought against him on Friday could give his Republican rivals in the presidential race ammunition to attack his national security credentials. So far they have largely sided with him.
"It's impossible to bet against Trump's staying power with the Republican base," said Matt Bennett of the center-left think tank Third Way. "But this conduct charged in this indictment is even worse than we expected – that it could break through."
Trump and his allies have described the case as political retaliation by Democratic President Joe Biden, but Biden has kept his distance.
The White House said Biden had no prior knowledge of the allegation and later declined to comment when asked by reporters about it.
BOXES IN THE BALLROOM, BOXES IN THE BATHROOM
Trump kept the documents in Mar-a-Lago and in his golf club in New Jersey. Mar-a-Lago hosted tens of thousands of guests at more than 150 events during the time they were there, the indictment alleges, and includes photos of Trump boxes on a dance stage, in a club bathroom, and in a closet, where some were lying on the floor.
The classified materials came from seven federal intelligence agencies, including the Pentagon, the CIA, the National Security Agency and the Department of Energy, the indictment said. One document concerned a foreign country's support for terrorism against US interests.
Prosecutors said Trump showed someone a Defense Department document described as a "plan of attack" against another country.
The indictment also alleges that Trump conspired with Nauta to keep confidential documents Trump had taken from the White House and hide them from a federal grand jury. Nauta, who worked for Trump in the White House and at Mar-a-Lago, faces six counts in the case.
Nauta falsely told the FBI he did not know how some of the documents ended up in Trump's Mar-a-Lago suite, when in fact he had been involved in being moved there from a storage room, according to the indictment.
A Nauta lawyer declined to comment.
Investigators seized about 13,000 documents in Mar-a-Lago nearly a year ago. One hundred have been marked classified, even though one of Trump's lawyers had previously said that all documents with classified marks had been returned to the government.
Trump has previously said he declassified those documents while he was president, but the indictment says he acknowledged he lost that power when he left office.
TRUMP ASSIGNED AS JUDGE
U.S. District Judge Aileen Cannon was initially assigned to oversee the case, a source who has been briefed on the matter said Friday. She could also preside over the trial, said the source, who she spoke on condition of anonymity.
Cannon, a 2019 Trump nominee, made headlines last year when she ruled in favor of the former US president at a pivotal stage in the case and was later overturned on appeal.
It's the second criminal case for Trump, who is expected to go to trial in New York next March in a statewide case stemming from a cash payment to a porn star.
If he wins the presidency again, Trump could potentially try to pardon himself, a legal move that would be controversial and unprecedented.
However, it would have no power to derail the state case against him.
The case does not prevent Trump from campaigning or taking office should he win the November 2024 presidential election. Legal experts say there would be no basis for blocking his oath of office even if he is convicted and sent to prison.
Special Counsel Smith is conducting a second criminal investigation into efforts by Trump and his allies to reverse his 2020 election loss in favor of Biden, a Democrat.
Trump faces a separate criminal investigation in Georgia related to efforts to overturn his loss to Biden in that state.
(Reporting by Sarah N. Lynch and Jonathan Stempel; Additional reporting by Jack Queen, Jacqueline Thomsen, Karen Freifeld, Nathan Layne, Heather Timmons, and Nandita Bose; Screenplay by Andy Sullivan; Editing by Noeleen Walder and Howard Goller)