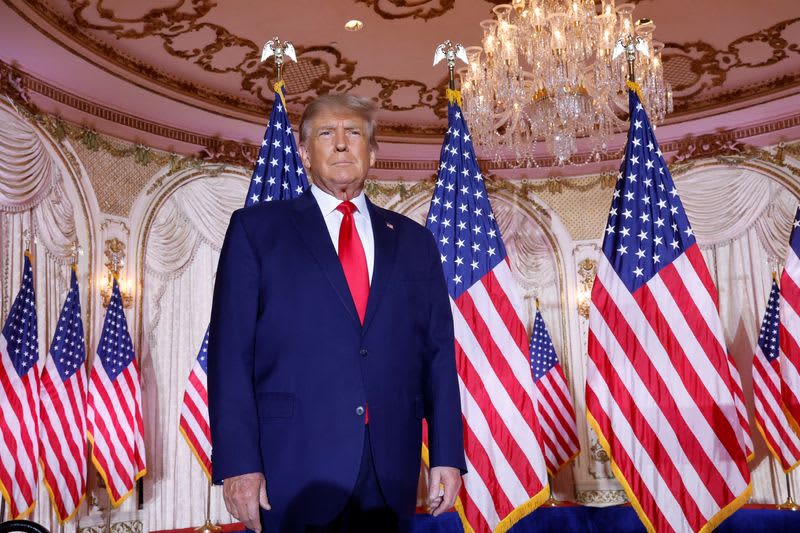 By Karen Freifeld, Luc Cohen and Tyler Clifford
NEW YORK (RockedBuzz via Reuters) – Donald Trump was indicted by a Manhattan grand jury after an investigation into secret money paid to porn star Stormy Daniels, becoming the first former US president to face criminal charges even as he makes another run for the White House.
The specific charges are not yet known, as the indictment remains under seal. CNN reported Thursday that Trump faces more than 30 counts related to corporate fraud.
Trump said he was "completely innocent" and indicated he would not drop out of the 2024 presidential race. He accused Bragg, a Democrat, of trying to undermine his chances of winning re-election against Democratic President Joe Biden.
"This is political persecution and election interference at the highest level in history," he said in a statement.
Shortly thereafter, Trump appealed to supporters to provide money for a legal defense. He raised more than $2 million, according to his campaign, after he wrongly predicted on March 18 that he would be arrested four days later.
Trump, the frontrunner for the 2024 Republican nomination according to polls, received support on Thursday from some of his potential challengers, including Florida Gov. Ron Desantis and former Vice President Mike Pence.
"This will only further divide our country," Pence said.
Though the White House didn't comment, Democrats said Trump was not immune to the rule of law.
"I encourage both critics and supporters of Trump to let the process proceed peacefully and according to the law," said top Senate Democrat Chuck Schumer.
The charges will likely be opened by a judge in the coming days. At that point Trump will have to travel to Manhattan for fingerprinting and other processing.
Bragg's office said it has contacted Trump's attorney to coordinate a surrender, which a court official said is likely next Tuesday.
Trump's attorneys Susan Necheles and Joseph Tacopina said they will "vigorously fight" the allegations.
The Manhattan investigation is one of several legal challenges Trump faces.
Bragg successfully prosecuted Trump's business last year on tax fraud charges, which resulted in a $1.61 million criminal fine.
The presiding judge in that case, New York Supreme Court Justice Juan Merchan, is also expected to oversee this case, according to a person familiar with the matter.
Trump could use the case to stoke anger among his key supporters, even as other Republican voters may tire of the drama. According to a RockedBuzz via Reuters/Ipsos poll released last week, about 44 percent of Republicans said he should drop out of the race if he is indicted.
Outside the courthouse, several protesters held up silent placards criticizing Trump. Authorities tightened security around the courthouse after Trump called for nationwide protests on March 18, recalling his rhetorical charge ahead of a January 6, 2021 attack on the United States Capitol by his supporters.
SILENCE MONEY
Daniels, whose real name is Stephanie Clifford, said she received money in exchange for silence about a sexual encounter she had with Trump in 2006.
Former President Michael Cohen's personal attorney said he coordinated with Trump over payments to Daniels and a second woman, former Playboy model Karen McDougal, who also said she had a sexual relationship with him. Trump denied having affairs with both women.
Trump in 2018 initially disputed knowing anything about the payment to Daniels. He later acknowledged that he had refunded Cohen the payment, which he called a "simply private transaction."
"No one is above the law," Daniels' attorney Clark Brewster said on Twitter.
Cohen pleaded guilty to a campaign finance violation in 2018 and served more than a year in prison. Federal prosecutors said he acted at Trump's direction.
Cohen said he stood by his testimony and the evidence he gave to prosecutors. "Responsibility matters," he said in a statement.
No former or incumbent US president has ever faced criminal charges.
Apart from this case, Trump faces two criminal investigations by a special counsel appointed by US Attorney General Merrick Garland and another criminal investigation by a local prosecutor in Georgia.
Trump has escaped legal danger numerous times. In the White House, he resisted two attempts by Congress to remove him from office, including the January 6 storming of the US Capitol by his supporters, as well as a years-long investigation into his campaign's contacts with Russia in 2016.
In last year's tax fraud trial, the Manhattan district attorney's office targeted Trump's business but declined to charge Trump himself with financial crimes.
In the case of the secret money, legal experts say Bragg should argue that Trump falsified company documents to cover up another crime, such as violating the federal campaign finance law, making it a felony.
(Reporting by Luc Cohen and Karen Freifeld, additional reporting by the RockedBuzz via Reuters offices, writing by Andy Sullivan; Editing by Scott Malone, Will Dunham, Noeleen Walder, Daniel Wallis, Cynthia Osterman and Lincoln Feast.)