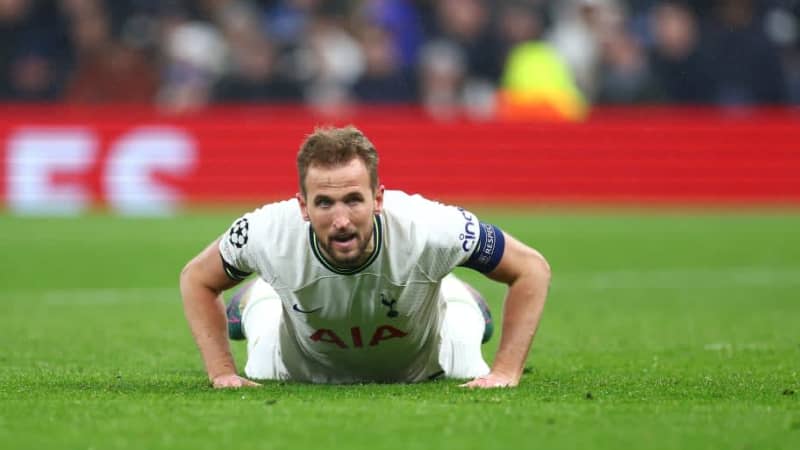 By Sean Walsh
FROM TOTTENHAM HOTSPUR STADIUM – Tottenham's UEFA Champions League season ended after they failed to overturn the 1-0 draw in the round of 16 against AC Milan.
Antonio Conte returned to the touchline following gallbladder surgery, but his tactics and substitutions were greatly questioned by disgruntled home fans on an infamous night in the club's modern history.
Stefano Pioli's Milan didn't have to do much to fend off the alleged threat from Spurs and progressed to the quarter-finals of this competition for the first time since they won it in 2007.
The visitors were the first team to have a real shot from halfway through. A skilfully worked free kick saw Sandro Tonali slide in for Junior Messias, who easily passed Ben Davies with a quick side step, but dragged his shot across the target.
Tottenham came closest to opening in the first half was when a deflected low cross from Harry Kane bounced wide off goalkeeper Mike Maignan's shins.
Just after the break, Milan came close to breaking the deadlock again when Brahim Diaz stumbled deep in the box and cleared a shot, but was too close to Fraser Forster and his shot was denied.
Pedro Porro's introduction from the bench gave Spurs some life, providing more dynamism on the right wing, but they still struggled to carve out chances.
Clumsy Pierre-Emile Hojbjerg, like Diaz, managed to fall to his feet dribbling in the box, forcing Maignan to save high at his near post.
An instant shot from Olivier Giroud was similarly cleared by Forster as Milan looked to strike a panic Tottenham on the break, while Kane's diving header from Porro's cross bounced off the turf and behind.
With less than 15 minutes to go, Cristian Romero picked up a second yellow charge for a high challenge on Theo Hernandez, nearly killing the equaliser.
The home fans loudly booed Conte's decision to replace striker Dejan Kulusevski with defender Davinson Sanchez with the home side still needing a goal in the last 10 minutes.
Six minutes into added time, Kane headed a Son free-kick into Maignan, who was right to dismiss it quickly, before Divock Origi came down the other side and hit the post.
That was the last bit of action on goal as Spurs' exit was sealed.
Tottenham Hotspur player ratings (3-4-3)
PORT: Fraser Forster – 5/10 – Little to do but he made the saves he had to. He looked puzzled when the possession kept coming back to him.
BC: Cristian Romero – 2/10 – He cost his share with a tall and cynical challenge. The villain in both legs of the tie.
BC: Clement Lenglet – 6/10 – Managed to deal with Giroud's threat.
CB: Ben Davies – 5/10 – He seemed a bit out of whack with a string of bad decisions.
RM: Emerson Royal – 5/10 – A nonentity in the final third and on both sides.
MC: Oliver Skipp – 5/10 – He wasn't afraid to make big challenges but was limited in ball possession.
MC: Pierre-Emile Hojbjerg – 4/10 – He continually put pressure on his teammates with poor passing and loitered on the ball.
LM: Ivan Perisic – 3/10 – He has a lot of his once powerful athleticism and was on a different wavelength than his teammates.
RF: Dejan Kulusevski – 5/10 – He saw more of the ball than his attacking partners but did little with it, often deferring to his wing-back.
LF: Son Heung-min – 4/10 – Completely shut down, again.
CF: Harry Kane – 5/10 – It's bad when Kane doesn't even go deep to try and make things happen for the Spurs.
Substitutes
Pedro Porro (53′ for Perisic) – 7/10
Richarlison (70′ for Emerson) – 5/10
Davinson Sanchez (84′ for Kulusevski) – N/A
Manager
Antonio Conte – 2/10 – The spurs were so, so flat and lost.
AC Milan player ratings (3-4-3)
PORT: Mike Maignan – 6/10 – Surprisingly he wasn't too busy despite Spurs' need to score.
CB: Pierre Rabbit – 7/10 – He had little trouble in his duels with Son.
CB: Malick Thiaw – 10/7 – Just like at San Siro, the young defender was in his element.
CB: Fikayo Tomori – 7/10 – Immersed in challenges but in a timely manner.
RM: Junior Messias – 6/10 – A dynamic option at full-back, but lost his composure under pressure.
CM: Rade Krunic – 10/7 – A little more careful in possession here than in the second leg.
CM: Sandro Tonali – 7/10 – I enjoyed the battle in midfield without having to do too much.
LM: Theo Hernandez – 6/10 – He didn't offer too much, but his willingness to bomb led to Romero's red card.
RF: Brahim Diaz – 6/10 – Milan were quite outspoken, but Diaz was their most successful striker.
C: Rafa Leo – 5/10 – Beaten up from the start. His touch always escaped her.
FC: Olivier Giroud – 5/10 – He worked hard, but that's about it.
Substitutes
Alexis Saelemaekers (56′ for Messias) – 5/10
Ismael Bennacer (81′ for Diaz) – N/A
Divock Origi (81′ for Giroud) – N/A
Ante Rebic (89′ for Leao) – N/A
Manager
Stefano Pioli – 6/10 – Milan go through without having to get out of second gear. Job well done.
Man of the Match – Malick Thiaw (Milan)
This article was originally posted on 90min.com as Tottenham 0-0 Milan (aggregate 0-1): Player ratings as Spurs exit Champions League.