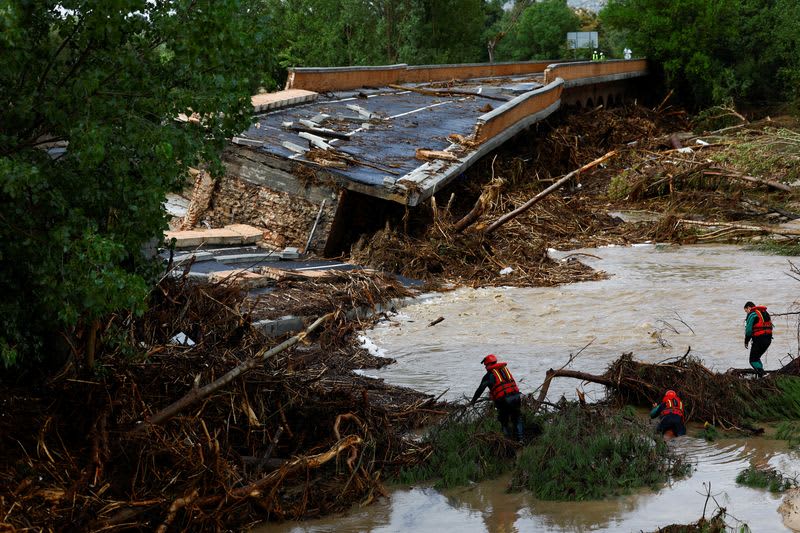 MADRID (RockedBuzz via Reuters) – At least three people have died and three are missing as record rains have caused severe flooding in central Spain, closing roads, metro lines and high-speed rail links, authorities said on Monday.
Helicopters were sent to rescue people who had sought refuge on the roofs of their houses in the Toledo area, about 50km southwest of Madrid, emergency services said.
The sudden downpour on Sunday and Monday turned the streets into rivers of mud that washed away cars and rubbish bins in the regions of Madrid, Castile-La Mancha, Catalonia and Valencia. Hail also fell in many areas.
Three people died in the countryside around the central city of Toledo, where the AEMET meteorological service recorded record rainfall of 90 liters per square meter on Sunday.
One of the victims was a young man who was trapped in a water-filled lift, while another was inside a vehicle when it flooded, police said.
The third person who died was a 50-year-old man who was reported missing. His body was found in the afternoon while floating in a river near his home, in the town of Camarena.
"It kept raining and we were a little scared, but we were indoors so we were safe," said Isabella Stewart, an American missionary who lives in Toledo as she caught a bus.
Another Toledo resident, Ruben Gonzalez, said, "I live four blocks away and it was very loud. Everything is flooded. It's crazy."
Later on Monday, AEMET said the low tide phenomenon – also known as "weatherman's woes" – that had caused the downpour was starting to recede from the country.
In the Madrid region, emergency services dealt with nearly 1,200 incidents overnight and firefighters and police were looking for a man in the rural area of ​​Aldea del Fresno, southwest of Madrid, emergency services said.
The man disappeared with his son when their car was swept into the Alberche River after an avalanche caused by a flash flood.
"The minor was rescued after climbing a tree," Madrid's emergency services reported.
Rescuers were also looking for a woman who disappeared in similar circumstances near Toledo and an 84-year-old man swept away by rivulets of water and mud in Villamanta, west of Madrid.
Several roads in the Madrid region were closed while half a dozen bridges were torn down by the water overflowing the river banks.
The Defense Ministry said it had sent Army engineers to build a so-called Bailey bridge – a type of truss bridge – at Aldea del Fresno to connect the banks after the original bridge was blown away.
Several metro lines were shut down in central Madrid early Monday morning, although service was re-established in most of the city during the morning, metro operator Metro de Madrid said in a statement.
Some high-speed connections between Madrid and the southern region of Andalusia have resumed, but trains were running at slower than normal speeds.
(Reporting by Inti Landauro, Emma Pinedo and David Latona; Editing by Andrei Khalip, Angus MacSwan and Christina Fincher)