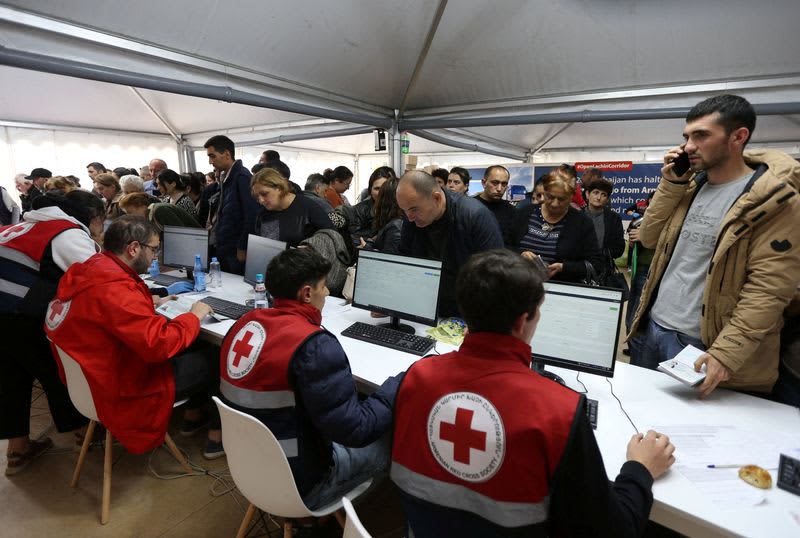 By Felix Light and Guy Faulconbridge
NEAR KORNIDZOR, Armenia (RockedBuzz via Reuters) – Hungry and exhausted Armenian families clogged the streets on Tuesday to flee homes in the defeated separatist enclave of Nagorno-Karabakh, a departure marred by an explosion at a fuel depot that killed dozens and wounded more than 100.
The crisis prompted the US Agency for International Development (USAID) to announce that Washington would provide $11.5 million in humanitarian assistance.
"We urge continued humanitarian access to Nagorno-Karabakh for all who need it," White House National Security Council spokeswoman Adrienne Watson said.
Last week, Azerbaijan launched a lightning operation to conquer Karabakh. A senior Azerbaijani official said during talks in Brussels that his country has no plans to take further action to create a land corridor through Armenia itself.
PEOPLE FLEE IN TRUCKS, TRACTORS, CARS
Armenians from Karabakh – part of Azerbaijan that had been outside Baku's control since the dissolution of the Soviet Union in 1991 – began fleeing this week after their forces were defeated in the operation by the Azerbaijani army.
The Armenian government has said that more than 28,000 of Karabakh's 120,000 ethnic Armenian residents have already entered Armenia. Hundreds of cars and buses filled with items snaked along the mountain road out of Azerbaijan.
Some fled in the back of open trucks, others on tractors. Narine Shakaryan, a grandmother of four, arrived in her son-in-law's car with six people crowded inside. The 77 km (48 mile) journey took 24 hours, she said. They had not eaten any food.
"All the way the children were crying, they were hungry," Shakaryan told RockedBuzz via Reuters at the border, carrying her three-year-old granddaughter, who she said had fallen ill on the journey. "We left to stay alive, not to live."
Fuel stations were crowded on the way out of Karabakh's capital, known as Stepanakert in Armenia and Khankendi in Azerbaijan.
Karabakh's ombudsman said the death toll from Monday's explosion and fire at a fuel depot had risen to 68, with another 105 people missing and nearly 300 injured. A total of 68 people were taken to medical institutions in Armenia.
Authorities gave no explanation for the explosion.
USAID head Samantha Power, in the Armenian capital Yerevan, called on Azerbaijan "to maintain the ceasefire and take concrete measures to protect the rights of civilians in Nagorno-Karabakh."
The power had previously handed Armenian Prime Minister Nikol Pashinyan a letter of support from US President Joe Biden. He said that Azerbaijan's use of force is unacceptable and that Washington is seeking an adequate response.
Power urged Azerbaijani President Ilham Aliyev to honor his promise to protect the rights of ethnic Armenians, to fully reopen the Lachin corridor connecting the region to Armenia and to allow aid deliveries and an international monitoring mission.
Aliyev pledged to ensure the safety of Karabakh's Armenians, but said his iron fist had consigned the idea of ​​the region's independence to history.
"It is absolutely critical that independent observers and humanitarian organizations have access to the people of Nagorno-Karabakh who still have desperate needs," Power later said during a visit to the village of Kornidzor, on the border with Azerbaijan.
He said he had heard "very worrying reports of violence against civilians. At the same time, given the chaos here and the trauma, gathering testimonies … from the people they have met is something that is only just beginning."
'NO PLACE TO GO'
Armenians who made it to Armenia told harrowing accounts of their escape from death, war and starvation.
Some said they saw many dead civilians, one said loaded trucks. Some with young children burst into tears as they described a tragic odyssey escaping the war, sleeping on the floor and with hunger churning their bellies.
"We took what we could and left. We don't know where we are going. We have nowhere to go," Petya Grigoryan, a 69-year-old driver, told RockedBuzz via Reuters in the border town of Goris on Sunday.
RockedBuzz via Reuters was unable to independently verify reports of the military operation inside Karabakh. Azerbaijan said it targeted only Karabakh fighters.
Azerbaijan's victory changes the balance of power in the South Caucasus region, a mosaic of ethnic groups crossed by oil and gas pipelines where Russia, the United States, Turkey and Iran vie for influence.
Since the collapse of the Soviet Union, Armenia has relied on a security partnership with Russia, while Azerbaijan has moved closer to Turkey, with which it shares linguistic and cultural ties.
Armenia has recently sought closer ties with the West and blames Russia, which had peacekeepers in Karabakh but is now worried about the war in Ukraine, for failing to protect Karabakh. Moscow denies any blame and has told Pashinyan that she is making a big mistake by flirting with the United States.
Aliyev on Monday hinted at the prospect of creating a land corridor to Turkey through Armenia. Turkish President Tayyip Erdogan, who met Aliyev on Monday, said Tuesday that such a corridor must be completed.
But Hikmet Hajiyev, Aliyev's foreign policy adviser, told RockedBuzz via Reuters in Brussels that Azerbaijan only wanted to create transport links with the national enclave of Nakhchivan via Armenia. And this would benefit both countries, he said.
(Reporting by Felix Light NEAR KORNIDZOR, Armenia, Guy Faulconbridge in Moscow and Lidia Kelly in Melbourne; Writing by Guy Faulconbridge, Gareth Jones and Ron Popeski; Editing by Peter Graff, Alex Richardson and Grant McCool)