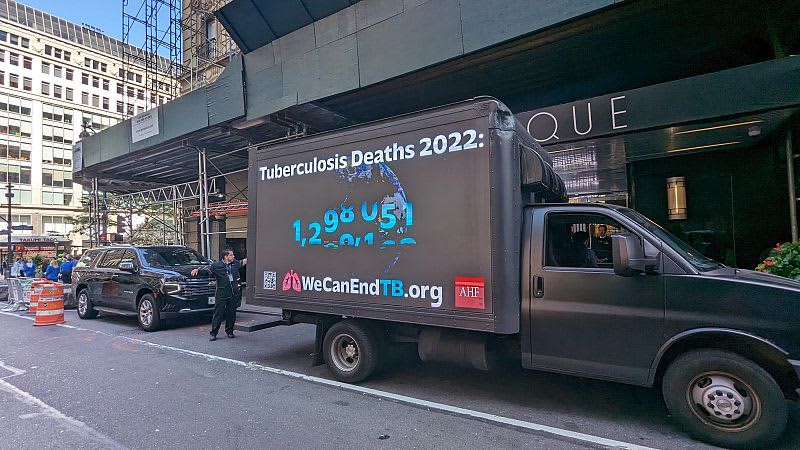 World leaders at the United Nations have approved an ambitious plan to fight tuberculosis over the next five years.
Goals include reaching 90% of people with tuberculosis prevention and treatment services, providing social benefit packages to all people affected by tuberculosis, licensing at least one new vaccine, and closing funding gaps for implementation and research by 2027.
Ahead of this historic meeting, WHO Director-General Tedros Adhanom Ghebreyesus officially launched the Tuberculosis Vaccine Accelerator Council to facilitate the development, licensing and use of new tuberculosis vaccines.
Opening the meeting, the President of the General Assembly, Dennis Francis, said: "The political declaration just approved today reflects the importance of the whole-of-society and whole-of-government approach and makes evidence-based recommendations to address end tuberculosis by 2030".
Francis continued: «But time is running out. I'm counting on you to inspire policy commitments driven by science, equity and inclusion. I encourage you to use today's platform to send a clear and unified message. Together, at the top, we can put an end to tuberculosis."
United Nations Deputy Secretary-General Amina J. Mohammed recalled a private moment, saying, "My commitment is my personal story."
"I lost my father to tuberculosis at 50, 37 years ago this week, today we have the tools to diagnose tuberculosis and what we need right now is the vaccine. Let's put an end to tuberculosis now. It is possible," said the deputy secretary general.
Also during the meeting, World Health Organization (WHO) Director-General Tedros Adhanom Ghebreyesus noted that, in 2021, tuberculosis has killed more than one million people and affected millions more."
Ghebreyesus concluded: "In the time it will take me to make these observations, 10 people will die of tuberculosis somewhere in the world. Most are poor, marginalized or malnourished. And the out-of-pocket costs associated with tuberculosis treatment expose them to financial hardship or push them further into poverty. Tuberculosis is the ultimate disease of deprivation."
The meeting was held under the theme "Promoting science, finance and innovation and their benefits, to urgently end the global tuberculosis epidemic, in particular by ensuring equitable access to prevention, testing, treatment and care".
The main objective is to implement a comprehensive review of progress made in the context of achieving the objectives set out in the 2018 Political Declaration and the Sustainable Development Goals.