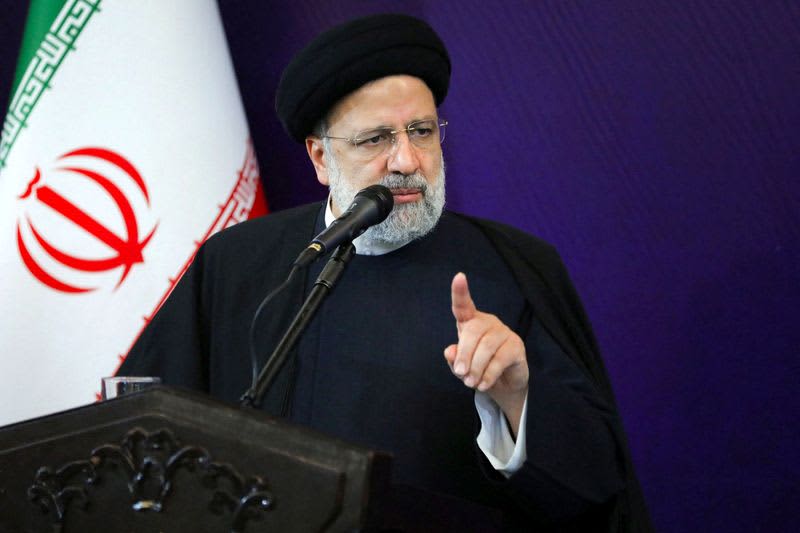 By Parisa Hafezi
DUBAI (RockedBuzz via Reuters) – As a young prosecutor in Tehran, Ebrahim Raisi was part of a "death committee" that oversaw the execution of hundreds of political prisoners in the Iranian capital, human rights groups said.
Now president three decades later, and seen by many as Iran's potential next supreme leader, Raisi is presiding over an uncompromising response to domestic and international challenges that have seen Iranian courts hand down dozens of death sentences.
Four people were hanged after being convicted of charges related to popular unrest in September over the death in police custody of Mahsa Amini, a 22-year-old Iranian Kurdish woman. On Saturday, Iranian media said former Defense Ministry aide Alireza Akbari was executed for espionage.
The executions drew condemnation from Europe and the United States, but Raisi insisted that the "identification, trial and punishment" of all those the authorities believe were involved in the violence would continue.
"Executions are aimed at creating a republic of fear where people dare not protest and officials dare not defect," said Ali Vaez, director of the International Crisis Group's Iran project.
Akbari, who had acquired British nationality and was living abroad, was "lured back" and arrested three years ago, British Foreign Secretary James Cleverly said this week.
Raisi's overseeing an unflinching crackdown on the riots, in which activists say more than 500 protesters and dozens of security force personnel have been killed, echoes his role in the purge of political prisoners in 1988.
Then, just weeks after the July ceasefire that ended eight years of war with Iraq, Iranian authorities conducted secret mass executions of thousands of imprisoned dissidents and opponents of the Islamic Republic.
Inquisitions, known as "death committees", were set up across Iran comprising religious judges, prosecutors and intelligence ministry officials to decide the fate of thousands of detainees in arbitrary trials that lasted only minutes, according to a report by Amnesty International.
Although the number of people killed across the country has never been confirmed, Amnesty said minimum estimates put it at 5,000.
Raisi, then deputy attorney general of Tehran, was a member of the capital's death committee, according to Amnesty.
Human Rights Watch, in a report released last year, quoted a prisoner as saying he saw Raisi in a prison outside Tehran and that Raisi would go to the execution site to make sure the trial went smoothly.
Asked in 2021 about allegations that he was involved in the murders, Raisi said: "If a judge, a prosecutor stood up for people's safety, he should be commended… I am proud to have stood up for human rights in every position I have covered held."
The presidential office did not immediately respond to a request for comment on this article.
Iranian officials have acknowledged the executions but downplayed the scale. In February 1989, President Akbar Hashemi Rafsanjani said "fewer than 1,000 were executed". In 2016, another member of Tehran's "death committee" said, "We are proud to have carried out God's order," state media reported.
"Raisi was brought up as a president for a few reasons, including his brutality, loyalty and lack of conscience. He displayed those characteristics in 1988," said Saeid Golgar of the University of Tennessee at Chattanooga.
"He is completely in agreement with the political repression."
SANCTIONED BY US
Raisi was born in 1960 to a religious family in the Shia Muslim city of Mashhad in northeastern Iran. He lost his father at the age of five, but followed in his footsteps to become a cleric.
As a young student at a religious seminary in the central holy city of Qom, he joined the protests against the Western-backed Shah in the 1979 revolution. His contacts with religious leaders in Qom subsequently made him a trusted figure in the judiciary .
Raisi served as deputy chief of the judiciary for 10 years, before being appointed attorney general in 2014. Five years later, the United States imposed sanctions on him for human rights abuses, including executions in the 1980s.
Seeking the presidency, Raisi lost to pragmatic Hassan Rouhani in the 2017 election. His failure was widely blamed on a 28-year-old audio tape that surfaced in 2016 and allegedly highlighted his role in executions.
In the recording, the late Ayatollah Hossein Ali Montazeri, then Deputy Supreme Leader, spoke about the killings. Montazeri's son was arrested and jailed for releasing the tape.
Raisi's 2021 presidential campaign ended in a victory that brought all branches of power in the country under the control of hard-liners loyal to Supreme Leader Ayatollah Ali Khamenei for the first time in years.
His election victory appeared to burn Raisi's chances of one day succeeding 83-year-old Khamenei, but some analysts and insiders believe his failure to revive a struggling economy and his foreign policy woes have hurt his prospects. .
Khamenei, not the president, has the final say on all major policies under Iran's dual political system divided between the Shiite clerical establishment and the government.
Raisi "is not leading the repression. He is an instrument of it," said the ICG's Vaez.
But his hard line, closely aligned with Khamenei, has helped drive policy abroad as well as at home.
Since its election, Iran has played hardball in negotiations to salvage its tattered nuclear deal with world powers, betting it has the leverage to get broad sanctions relief in exchange for limits on its ever-growing uranium enrichment technology. more advanced.
Khamenei backed the original 2015 deal negotiated by the pragmatist Rouhani's government, resulting in a temporary lifting of Iran's economic and political isolation.
But in 2018 then-President Donald Trump withdrew the US from the pact and reimposed sanctions, saying the deal – reached before he took office – was too lenient on Tehran.
(Writing by Dominic Evans/Michael Georgy; Editing by Mark Heinrich)