According to the KSH report, inflation fell from 21.5 percent in May to 20.1 percent in June, which was in line with analysts' expectations. Household energy and foodstuffs continue to lead the price increase, in the case of the former, last year's modification of the utility reduction still causes a significant increase. In the case of foodstuffs, however, it is good news that prices have decreased on a monthly basis for the first time in two years.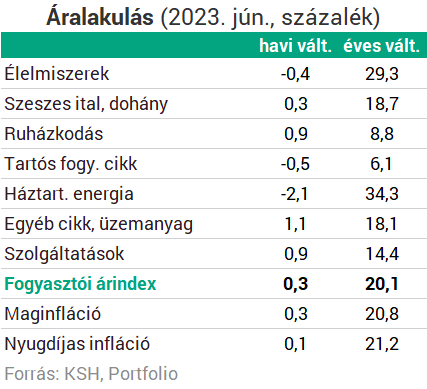 The basic inflation indicators of the MNB also show a decrease on all fronts, the tax-adjusted core inflation decreased to 20.7 percent, the demand-sensitive inflation was 17.8 percent, while the inflation of products with rarely changing prices decreased to 16.7 percent.
The slowdown in June was almost entirely caused by foodstuffs (-0.9 percentage points) and manufactured goods (-0.4 percentage points), reads the MNB's assessment. All main product groups contributed to the decrease in core inflation, and our indicators calculated on an annual basis, which capture more permanent inflationary trends, also decreased.
The basket calculated without fuels and regulated prices rose by 0.2 percent in a monthly comparison. The monthly change in core inflation, calculated without processed food, which better reflects basic processes, moderated to 0.6 percent.
Indicators measuring the population's inflation expectations are characterized by greater variability than usual. The decline in corporate price expectations for retail sales prices and services both continued, the MNB reports.
Cover image: Getty Images