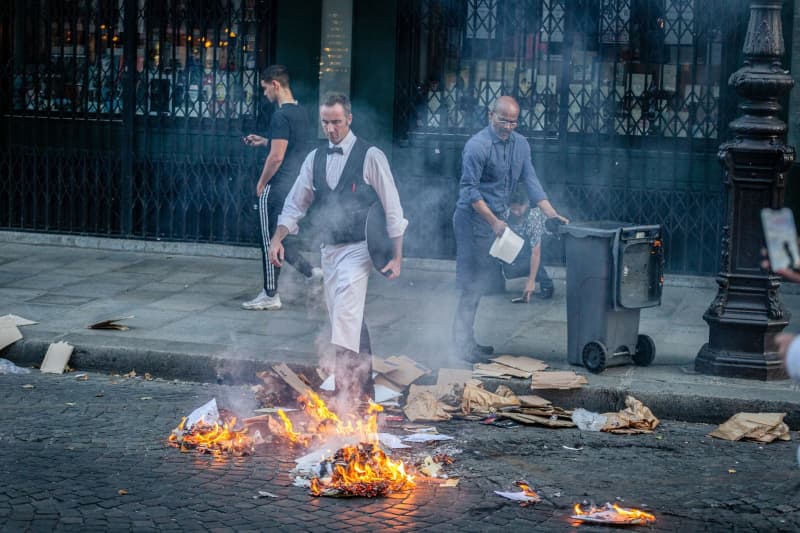 The grandmother of 17-year-old Nahel called for calm on Sunday after days of unrest in France over his death during a police traffic check.
"Luckily, there are the police officers. The people who are breaking things right now, I tell them 'stop it.' They used Nahel as an excuse," she told BFMTV.
Though she's angry at the officer who shot her nephew, she doesn't want to generalize. He will be punished like anyone else, said Nadia, whose surname like Nahel's is not published.
"I have faith in the judiciary," he noted, adding that people should keep calm and not destroy everything.
French police arrested at least 719 people on Saturday night during further unrest over alleged police brutality, according to an assessment by the interior ministry.
The ministry tweeted that 45 police officers were injured in the renewed riot, which could enter its sixth day on Sunday night.
But thanks to the deployment of 45,000 police officers and thousands of firefighters, Saturday was a "quieter night" than the previous day, the tweet claims.
Paris, Marseille and Lyon were among the cities hardest hit on Saturday night, with rioting, looting and property damage.
Paris police cleared the famous Champs Élysées avenue using tear gas, Le Figaro newspaper reported.
According to Vincent Jeanbrun, mayor of L'Haÿ-les-Roses outside Paris, rioters also rammed a mayor's house with a car and set it on fire during the night while his family slept.
He said his wife and one of his children were injured. The prosecutor's office has opened an investigation into attempted murder, according to broadcaster BFMTV.
The mayor was still in City Hall on Saturday evening, barricaded with barbed wire and manned by police officers due to attempted bombings after days of unrest.
There has also been a large increase in police presence in cities nationwide, particularly in Marseille, Lyon and Grenoble.
In Marseille, the police have deployed armored vehicles, helicopters and special troops.
Unrest raging in France after Tuesday's fatal shooting of the 17-year-old, who walked away when police asked him to stop him, has sparked outrage and allegations of excessive police violence.
Initially, police said the young man wanted to run them over, but when videos of the incident went viral online, police distanced themselves from this version of events.
The police officer suspected of killing the teenager was placed in custody and a manslaughter investigation was launched.
A request for donations for the policeman reached over €500,000 ($545,000).
The goal of the donation campaign is to support the officer's family, "who were doing their job and paid a high price," the campaign said in a statement.
The campaign was organized by Jean Messiha, a supporter of far-right French politician Éric Zemmour.
The teenager was buried in his hometown of Nanterre near Paris on Saturday afternoon.
Also on Saturday, French President Emmanuel Macron canceled his state visit to Germany scheduled for next week given the unrest.
Several concerts, fashion shows and other cultural events have also been canceled in France. Buses and trams currently only run during the day and it is forbidden to sell or carry fireworks and flammable substances.
However, the government has not declared a national state of emergency and curfews have only been imposed in isolated cases in smaller towns.