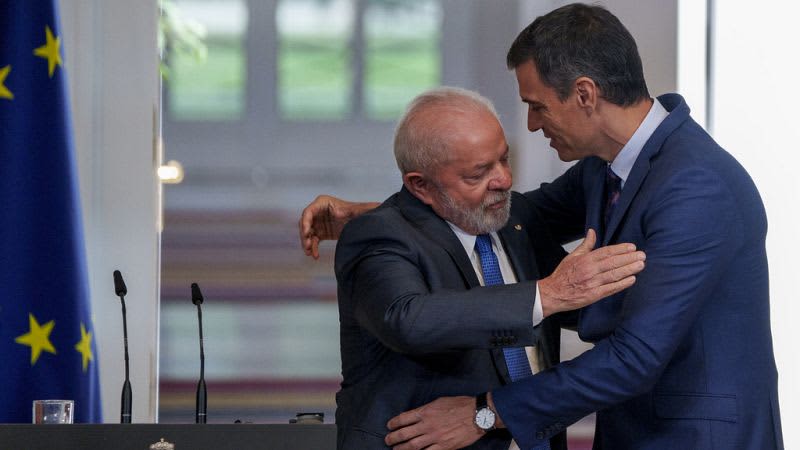 Brazilian President Luiz Inácio Lula da Silva arrived in Spain on Tuesday for the second leg of a European tour aimed at restoring relations and making progress on a long-delayed trade deal between the European Union and South American bloc Mercosur.
After five days in Portugal, Lula attended a business forum in Madrid before meetings with Spanish Prime Minister Pedro Sánchez and King Felipe VI on Wednesday.
The forthcoming EU-Mercosur trade deal will be high on the agenda. The 27 member states completed negotiations with Mercosur, which includes Argentina, Brazil, Paraguay and Uruguay, in 2019. But ratification has stalled.
Mercosur blockade
Spain assumes the rotating presidency of the EU in July while Brazil simultaneously assumes the equivalent role in Mercosur. Both are eager to finalize the outstanding aspects of the deal.
"Partners from Brazil and Mercosur are engaged in a dialogue to conclude negotiations with the European Union and we hope to have good news this year," Lula tweeted after meetings with Spanish business leaders. "It is a very important agreement for everyone and we want it to be balanced and contribute to the reindustrialization of Brazil."
The Mercosur-EU agreement will mean the integration of a market of about 800 million people, about a quarter of world gross domestic product and more than 90.5 billion euros in bilateral trade in goods and services. The deal would cut customs duties and make it easier for agricultural exporters to access the EU market and for European producers to access Mercosur countries.
Lula added that the conditions "are right" to deepen commercial cooperation by identifying his guests.
Commercial cooperation
"We want to attract a new wave of Spanish investment. The infrastructure investment program that I will launch next May will offer promising opportunities," he said.
Ratification has stalled due to EU concerns over deforestation stoked during the leadership of Lula's predecessor Jair Bolsonaro, although Lula's re-election has allayed those fears, according to Spanish officials. Bolsonaro has defeated environmental authorities, encouraged illegal gold mining in indigenous areas and oversaw a surge in deforestation to its fastest rate in two decades. However, France remains concerned about protecting its farmers from imported Latin American goods.
Jordi Cañas, a centre-right Spanish lawmaker in the European Parliament, said he hoped a final draft of the agreement would be ready for the EU's July 17-18 joint summit with the Community of Latin American and Caribbean States (CELAC).
"Pedro Sánchez has the obligation to lead the closing of the negotiations currently underway in order to have a document that can be signed and ratified at the EU-CELAC summit as a clear and strong political message to strengthen EU-Latin America relations", he said stated. he said. "This moment requires political leadership that is equal to the opportunity represented by the EU-Mercosur agreement".
José Antonio Sanahuja, a professor of international relations and special adviser to the EU's high representative for foreign affairs, Josep Borrell, said Lula took great pains to project his administration's environmental credentials.
"It was very difficult for the European community and parliament to agree to an agreement given (Bolsonaro's) nefarious environmental policy," said Sanahuja, who is also director of the Carolina Foundation, which promotes international educational and scientific cooperation. More stringent environmental requirements can be added to the agreement in annexes, he added.
The trip is an opportunity for Lula to ease tensions with Europe after his recent statements on Ukraine. Earlier this month, the Brazilian leader said both Ukraine and Russia had decided to go to war and said the US and EU were "stimulating" the fighting, drawing sharp rebukes from both.
During his first joint press conference with Portuguese President Marcelo Rebelo de Sousa, Lula clarified that Brazil condemned the Russian occupation of Ukrainian territory and voted to do so at the United Nations. He denied ever equating Ukraine with Russia. But he also said that whoever doesn't speak of peace contributes to war.
The risk is that Lula's repeated clarifications of her position will cloud potential outcomes, said Bruna Santos, director of the Brazil Institute at the Woodrow Wilson Center.
"Just as with his trip to China, his mentions of the situation in Ukraine diverted public attention from the results and economic ambitions of the visit," Santos said of his recent trip to Portugal.