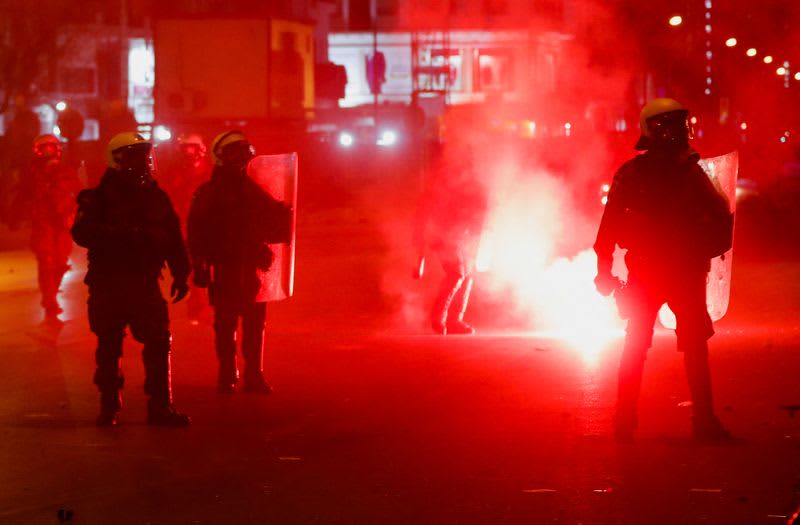 By Stamos Prousalis and Kristian Brunse
ATHENS (RockedBuzz via Reuters) – Tens of thousands took to the streets of Greece on Wednesday as workers went on strike in the largest display of public anger ever over the country's deadliest train wreck that killed 57 people last week.
The 28 February incident sparked public outrage over the dilapidated state of the rail network. The striking workers say years of neglect, underinvestment and staff shortages – a legacy of Greece's decade-long debt crisis – are to blame.
In the biggest street protests the government has faced since it was elected in 2019, police estimated more than 60,000 people, including transport workers, students and teachers, took part in demonstrations in cities across Greece .
More than 40,000 people marched to the parliament in central Athens alone, chanting "Murderers!" and "We are all in the same carriage."
Violence briefly erupted when a group of protesters clashed with riot police, who fired tear gas into the crowd. Protesters threw petrol bombs in front of parliament and set fire to a van and rubbish bins.
Thousands also took to the streets in Greece's second largest city, Thessaloniki, where a group of protesters threw stones at a government building.
Many of the 350 or so people aboard an intercity passenger train that collided head-on with a freight train while traveling on the same track were university students heading north to Thessaloniki from Athens.
"Text me when you arrive," read a sign in Athens, echoing what has become one of the slogans of last week's protests.
"You feel angry that the government hasn't done anything for all those children. Public transport is a disaster," said Nikomathi Vathi, 19.
"We will stay here until things change," said another student, Vaggelis Somarakis.
The Conservative government, which was scheduled to hold elections in the coming weeks, promised on Wednesday to repair the ailing railway system.
Transport Minister George Gerapetritis said in a press conference that he understood the anger caused by the accident.
"No train will leave if we haven't ensured safety to the highest possible level," he said after announcing a suspension of service as it moved into the safety review.
WARNINGS
Railroad workers had already staged rolling strikes since Thursday, shutting down the network.
They say their calls for improved safety protocols have gone unheeded for years and have promised to "enforce safety" to ensure an incident doesn't happen again.
"We train drivers filed complaints about these things, we went on strike because of it, we made warnings, we protested," said the head of the train drivers union, Kostas Genidounias.
"They told us we were lying, that we were slanderous, that we had other interests. In the end, it turned out that the workers were right."
Greece's largest public sector union, ADEDY, joined the 24-hour strike on Wednesday. Urban transport workers quit their jobs in solidarity, disrupting metro, tram and bus services in the capital. Ships also remained docked in ports while sailors joined in the action.
"Now is not the time to shut up," said a teachers' union.
The government, whose mandate expires in July, blamed the crash mainly on human error and shortcomings that it says have not been addressed in recent decades.
Prime Minister Kyriakos Mitsotakis handed over the wallet to Gerapetritis, one of his closest allies.
Gerapetritis said the funds would be invested in improving infrastructure and hiring staff, and also promised to shed light on the cause of the accident.
Greece sold its state-owned train operator, now called Hellenic Train, to the Italian state-owned Ferrovie dello Stato in 2017 amid its debt crisis. The sale was a term in the country's bailout deals with the European Union and the Washington-based International Monetary Fund.
(Additional reporting by Karolina Tagaris, Renee Maltezou, Angeliki Koutantou, Lefteris Papadimas, Louiza Vradi, Florion Goga, Alkis Konstantinidis, Alexandros Avradmidis in Athens and Murad Sezer in Thessaloniki; Screenplay by Karolina Tagaris and Renee Maltezou; Editing by Alison Williams)