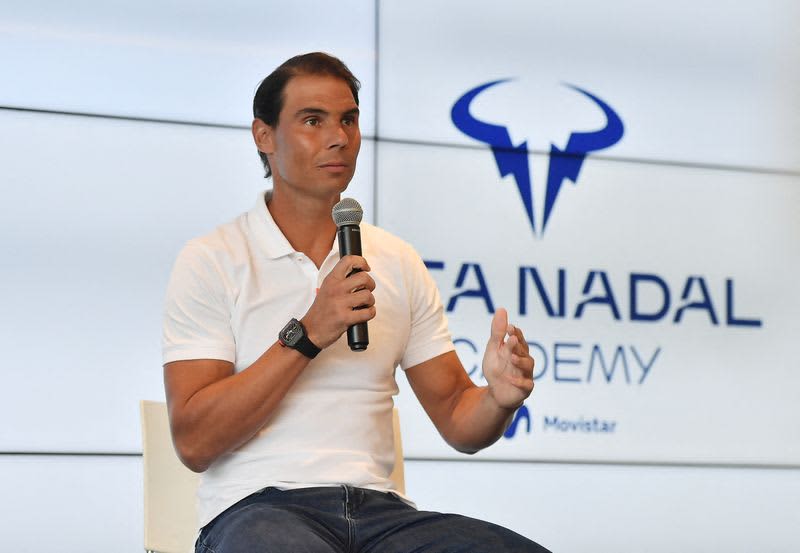 (RockedBuzz via Reuters) – Holder Rafa Nadal will miss the French Open after failing to regain full fitness after sustaining a hip injury at the Australian Open in January, and the 14-time Roland Garros winner added he was expect to retire after the 2024 season.
Nadal, who dominated the clay court season for nearly two decades, has competed at Roland Garros every year since winning the first of his 22 majors in Paris in 2005.
"I will try to be 100% ready for next year, which I believe will be the last year of my professional career," Nadal said at a news conference at his tennis academy in Mallorca, Spain.
"The evolution of the injury I suffered in Australia didn't go as I would have liked. I lost goals on the road and Roland Garros becomes impossible."
Nadal said he must stop playing for the foreseeable future to fully recover and return for what he anticipates will be his farewell season.
"I won't set a date for my return. I'll see how my body responds and I'll start from there," said the 36-year-old, who is tied with Novak Djokovic with a men's record 22 Grand Slam titles. "If I keep playing right now, I don't think I can be there next year.
"I don't know if I will be able to return to the top level and compete for Grand Slams. What I will try to do is give myself the opportunity to return to what could be my last year of competing at the top level."
The French Open runs from May 28 to June 11.
The organizers of the French Open said on Twitter: "We can't imagine how difficult this decision was. You will definitely be missed at Roland Garros this year. Take care of yourself to come back stronger on the court. Hope to see you there." next year in Paris."
Spaniard Carlos Alcaraz, who is poised to reclaim the top spot ahead of the French Open, and world number three Daniil Medvedev said they hoped for a quick return to action for Nadal.
"Very painful and sad for everyone that we can't be at Roland Garros or play more this year," Alcaraz wrote on Twitter. "I hope 2024 is a great season for you and you can say goodbye like the great champion you are."
Medvedev said the draw for Roland Garros will be open.
"Even if he is not 100% physically, but decides to play, he will be a favorite," Medvedev said in an interview on the court at the Italian Open.
"I hope he can come back, play a few more Grand Slams… He's an extraordinary player, an extraordinary athlete, one of the best in history."
HIP PROBLEM
Nadal overcame a nagging foot injury by beating Casper Ruud in last year's Roland Garros final. But he struggled with his he latest issue and hasn't competed since January after injuring his hip flexor in his second round match against Mackenzie McDonald effectively ended his Melbourne Park title defence.
Nadal was originally expected to miss up to eight weeks, but missed clay tournaments in Madrid and Rome to boost his fitness after being ruled out of events in Indian Wells, Miami, Monte Carlo and Barcelona earlier this season .
In March, Nadal dropped out of the top 10 in the world rankings for the first time since 2005 and is currently 14th.
Nadal's 14 French Open titles are the most by any player in a single major. He boasts a stunning 112-3 record in Paris and is widely regarded as the "King of clay."
"With what that tournament is for me, you can imagine how difficult it is," said Nadal. "I need to stop my sports career for a while. I'll try to regenerate my body in these months".
Nadal added that one of his goals for next year is to participate in the Paris Olympics, when the tennis tournament will take place at Roland Garros.
"It's more motivation to focus on my comeback," he said. "I've had some very difficult years and I think it's time to take better care of my body, I've suffered a lot from injuries… I don't know what will happen next year.
"Roland Garros will always be Roland Garros with or without me… there will be a new champion and I'm sure the tournament will be a great success."
(Reporting by Shrivathsa Sridhar in Bangalore, Fernando Kallas & Hritika Sharma; Editing by Ken Ferris & Pritha Sarkar)