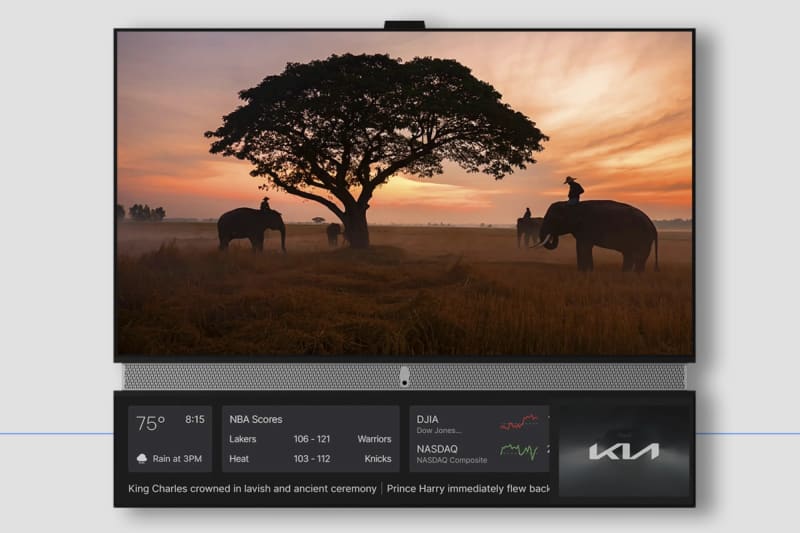 Free TV startup Telly made a splash last month with the unveiling of its own Dual screen TV that comes absolutely freeas long as you watch ads on the second screen. Now we're getting more details on the fine print, including what could happen if you block that secondary display.
During an interview with The Streamable, a Telly executive said that one of the terms of Telly's user agreement is that set owners must not "cover up or otherwise attempt to disable" the second screen.
If a Telly user blocks the secondary screen, which displays advertisements, news and sports headlines, weather reports and other information, they would be in breach of the Telly service agreement and could potentially face a hefty fine.
"Consumers who violate our terms and conditions and refuse to return the television will be charged $1,000 worth of the television," Telly CSO Dallas Lawrence told The Streamable.
Among other conditions of Telly's user agreement is that Telly owners must use the dual-screen TV as the "main TV in the house in the living room," Lawrence added. In other words, you could be breaking the Telly TV rules if you put the dual screen in a second room and watch most of the TV on a huge OLED.
Now, it's not clear exactly how Telly would enforce the rules in its service level agreement, or how strict it would be with violations.
In an interview with The Streamable, Telly's Dallas Lawrence pointed out that charging a fee to users who violate the company's terms of service would be a "final step," implying that your Telly wouldn't spit a $1,000 bill in the instant you wrap a towel over the second screen of the Telly TV.
However, it's clear that the lack of a Telly TV price tag looms over users actually watching the ads displayed on the secondary screen, and if you don't like the idea of ​​a second TV display with ads, you should probably pay for a regular TV. .
We reached out to Telly for more details.
Telly revealed its free dual-screen TV last month. The set will come with a 55-inch 4K HDR display, as well as a shorter secondary "smart" screen that runs the full width of the primary display.
Sitting between the two screens is a "mighty" five-driver soundbar, and other features will include an HD camera for video chats, a motion sensor, a microphone array and a "Hey Telly" voice assistant.
The Telly will come with a trio of HDMI inputs that let you connect your streaming video player, and an Android TV dongle will be included.
While Telly's terms and conditions prohibit users from locking their TV's second screen, the company hopes you don't want to.
In addition to the ads, the second screen will offer a variety of "new experiences," Telly promises, including news and sports tickers, Zoom-based video conferencing, an "game room" with about 40 video games ("from arcade classics to immersive multiplayer experiences" ), streaming music, and "motion-sensing" fitness programs.
Telly is currently taking reservations for its free dual screen TVsbut it is unclear whether any units were actually shipped.