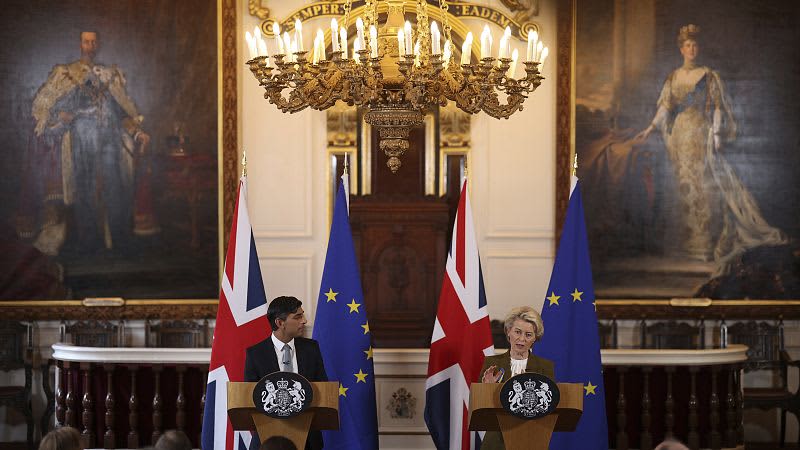 After months of painstaking negotiations, the UK and the European Union have tabled an agreement on a revised version of the Northern Ireland Protocol.
Brussels and London have reached a compromise on trade rules that have created severe tensions since Britain left the EU in 2020.
If the UK manages to secure this new deal, the Windsor Framework would, over the limit, reduce customs controls imposed on goods traded between Northern Ireland and the rest of the UK.
It will also allow the Northern Irish assembly to waive some EU laws, through a mechanism called the Stormont Brake.
Both sides were visibly relieved and full of praise.
"I believe we can now open a new chapter in a partnership. A stronger EU-UK relationship, standing as close partners side by side, now and in the future," Ursula von der Leyen, president of the European Commission, told reporters on Monday.
The deal does not technically require ratification, but Von der Leyen's counterpart, British Prime Minister Rishi Sunak, said the House of Commons would vote "when the time is right".
In other words, it now begins its difficult task of selling the deal to the Brexit hardliners who opposed the Northern Ireland Protocol in the first place.
The day after the announcement, Sunak traveled to Northern Ireland and spoke to workers at a bottling company, telling them that Northern Ireland was in a "unique" and "privileged" position to have access to both the UK and EU markets, although this was the case for the whole of the UK before Brexit.
Confusingly, Sunak now seems to be suggesting that being part of the single market is a good thing and is celebrating a deal for Northern Ireland that now excludes the rest of the UK.
Either way, when it comes to EU-UK relations, Richard Whitman, an associate member of Chatham House in London, told RockedBuzz via Euronews he hoped things could now change after Brexit.
"It puts them on a normal basis. I mean, we've had a really terrible relationship, particularly in the last couple of years, despite the fact that we reached the agreement on the withdrawal and then the trade and cooperation agreement," Whitman said.
"So, I think we are now taking the first steps towards a more normal relationship. I guess I would define it as a period of relaxation after a period of the cold war."
Gas together
Brussels said on Thursday it would go ahead with plans to purchase gas jointly in a bid to leverage the bloc's purchasing power and secure lower prices from international suppliers.
The scheme was approved in mid-December as part of a wider set of emergency measures to combat the energy crisis. But unlike most of these measures, collective purchasing has yet to be implemented and produce tangible effects for households and businesses.
Brussels is stepping up work to get the system up and running by the summer, when member states are expected to start replenishing their underground gas depots, a concentrated push that drove prices to astronomical levels last year not seen before.
Prices have steadily fallen since then and are now hovering around €47 per megawatt-hour, similar to levels seen before Russia launched its full-scale invasion of Ukraine, but exceptionally high compared to pre-pandemic trends.
"The price of gas in the EU remains inflated. For example, it is almost seven times higher than in the United States," said Maroš Šefčovič, European Commission vice-president in charge of leading the joint procurement.
"This obviously affects Europe's competitiveness and the cost of living of our citizens."
The war has forced EU countries to abruptly abandon their energy dependence on Russian fossil fuels and do whatever it takes to diversify their gas suppliers, even if it comes at a high price.
Liquefied natural gas (LNG) from the United States, Qatar and Nigeria, together with upgraded pipeline flows from Norway and Algeria, have emerged as the main alternatives to replace Moscow.
But these producers, especially LNG traders, are sought after around the world, leading to tight inventories and high tariffs.
The European Commission wants to bring all member states together in a common commitment to purchase gas and prevent competition from raising fuel prices further.
Countries will be required to bundle at least 15% of their warehousing obligations into an electronic platform, which will then match companies with international suppliers based on their needs.
Both LNG and the pipeline will be up for grabs.