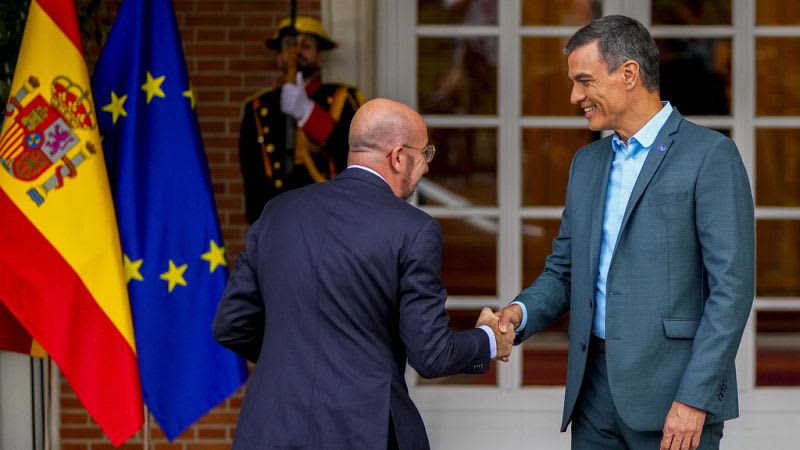 Spanish Prime Minister Pedro Sanchez and European Council President Charles Michel met in Madrid on Sunday to discuss priorities for Spain's six-month presidency of the Council of the European Union.
Priorities include reindustrializing the EU and ensuring its open strategic autonomy, making progress in the ecological transition and environmental adaptation, promoting greater social and economic justice, and strengthening European unity.
Pedro Sanchez received Charles Michel at La Moncloa Palace the day after his trip to Kiev, where he met Ukrainian President Volodimir Zelenskyy and reiterated his commitment to support Ukraine "for as long as necessary" and "regardless of price to pay".
Pedro Sánchez postpones key speech in European Parliament due to early elections
In addition to Ukraine, Spain hopes to make progress on several important EU issues during its presidency, including having the EU finalize a controversial migration pact despite lingering differences within the group of 27 nations.
Spain also says snap elections this month will not interrupt Spain's presidential round.
Migration issue and threat from the far right
Earlier this month, EU countries saw a breakthrough in asylum law reform, signing agreement on a plan to share responsibility for migrants entering Europe without authorisation. Only Poland and Hungary voted against.
EU lawmakers have warned that this could be the last chance to fix the problem before the European elections in a year's time, when migration is likely to be a hot topic once again.
The rotating presidency comes as Spain faces a snap general election on July 23, which polls show could oust Sánchez's left-wing coalition government and replace it with a conservative administration, or even a coalition with the far right , and follow a trend in much of Europe .