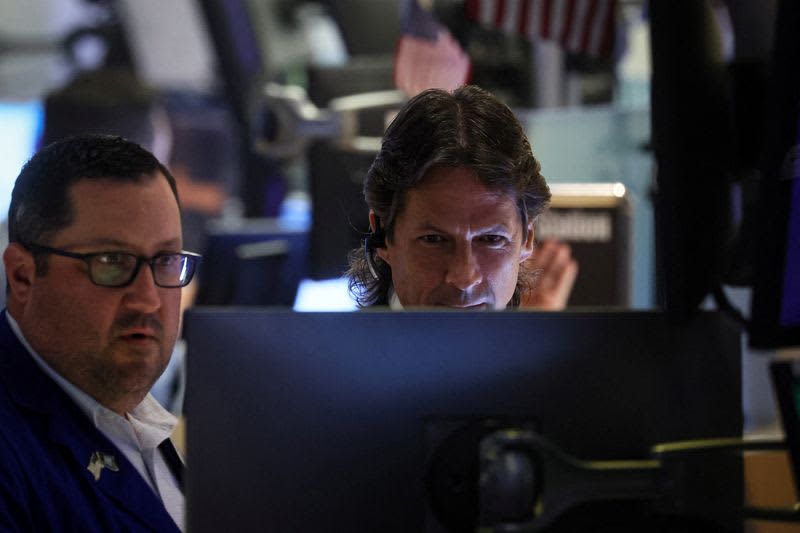 By Stephen Culp
NEW YORK (RockedBuzz via Reuters) – Wall Street closed lower on Friday, capping a tumultuous week in which yields on benchmark Treasury bonds hit 16-year highs and investors digested aggressive revisions to the Federal Reserve's outlook.
All three major US stock indexes fluctuated for much of the session, but closed in the red.
All three posted weekly losses, with the S&P 500 and Nasdaq posting their biggest Friday-to-Friday percentage declines since March.
On Thursday, the S&P 500 fell below its 100-day moving average – a key support level – for the first time since March. Its failure to break above that level suggests the index is still under downward pressure.
"This week is about some Fed messaging that resonates with overly optimistic stock investors," said Zachary Hill, head of portfolio management at Horizon Investments in Charlotte, North Carolina.
Hill added that investors have "been wanting to trade peak interest rates for almost a year now." But he said it was clear in Fed Chair Jerome Powell's remarks this week "and in the dot plot that the Fed doesn't think we're at that point yet."
"The stock action this week has been about digesting that reality."
Benchmark U.S. Treasury yields fell from 16-year highs as investors shifted their attention from the Fed's hawkish guidance to key economic data waiting in the wings.
Investors are still digesting the Fed's decision to keep the benchmark interest rate unchanged, but they update quarterly summary economic projections to suggest that tight monetary policy will remain in place longer than previously expected.
Fed Governor Michelle Bowman's remarks on Friday supported FOMC hawks, suggesting that the Fed funds target rate would need to be raised further and held "at a restrictive level for some time" to bring inflation back to the 2% target of the central bank.
"There are a lot of factors standing in the way of a soft landing and that's something the Fed needs to remember, because pushing rates higher could push us into recession," said Robert Pavlik, senior portfolio manager at Dakota Wealth in Fairfield, Connecticut.
The Dow Jones Industrial Average fell 106.58 points, or 0.31%, to 33,963.84, the S&P 500 lost 9.94 points, or 0.23%, to 4,320.06 and the Nasdaq Composite fell 12.18 points, or 0.09%, to 13,211.81.
Among the 11 major sectors of the S&P 500, consumer discretionary suffered the steepest percentage loss, while technology and energy were the only gains.
Ford Motor Co gained 1.9% after the striking United Auto Workers union reported progress in talks with the automaker.
Activision Blizzard gained 1.7% on the back of Britain's antitrust regulator's statement that Microsoft Corp's restructured $69 billion takeover of the company "opens the door" to closing the biggest deal game never made.
U.S.-listed shares of Chinese companies including PDD Holdings, JD.com, Li Auto and Baidu rose between 2% and 4% on signs of economic recovery, while Alibaba jumped 5.0% after Bloomberg reported on Cainiao, the company's logistics arm. plans to apply for an IPO in Hong Kong as early as next week.
On the NYSE, declining issues outnumbered advancing ones by a ratio of 1.12 to 1; on the Nasdaq, a ratio of 1.29 to 1 favored declining countries.
The S&P 500 posted a new 52-week high and 35 new lows; the Nasdaq Composite recorded 33 new highs and 321 new lows.
Volume on U.S. exchanges was 9.47 billion shares, compared to the full-session average of 10.09 billion over the past 20 trading days.
(Reporting by Stephen Culp; Additional reporting by Ankika Biswas and Shristi Achar A in Bangalore; Editing by David Gregorio)