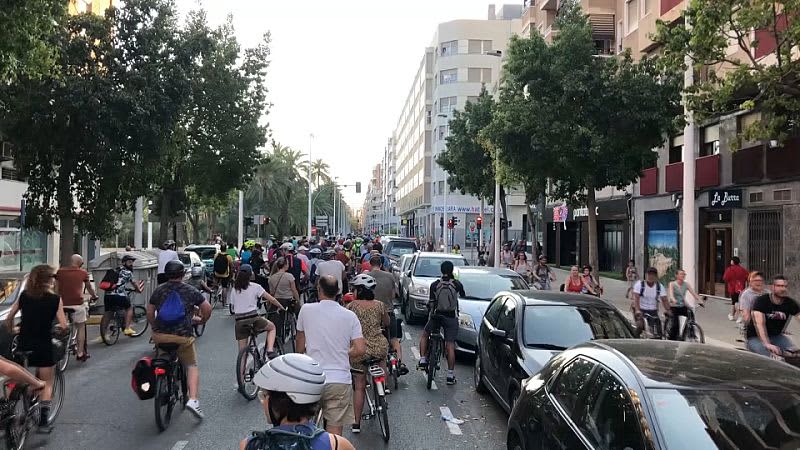 But apparently their protest was in vain.
The new municipality of Elche, the third largest city in the Valencia region, is now made up of the conservative party and the far-right Vox party and has already taken the controversial decision to allow more space for vehicles on the city's streets.
Two months after the cycling protest, the kilometer-long cycle path was demolished and the confidence that some cyclists feel when riding the main road has also disappeared.
"I've had more than one bicycle accident and I assure you that when they remove the cycle paths, I won't take them, because it scares me," said Manuela Campello, an elderly cyclist.
Authorities insist they are not against cycle lanes, but that some are poorly placed, making them dangerous as they conflict with other traffic on the roads.
And the other residents agree. In the central market, some traders say that the cycle paths have removed the parking spaces for cars.
"If the bike lanes take away parking spaces and lanes of traffic, that's a problem," said Carmen Alarcón, president of the Central Market Traders' Association.
But keeping the roads safe for cyclists and leaving room for vehicles may not be the only sticking point.
The cycleways were funded as part of a larger EU project to develop low-emission zones in the city.
And according to a former mobility commissioner, the authorities may have to pay the money back now.
"It must be borne in mind that Elche has received around 15 million European funds which are in danger if the low-emissions zone is not developed, because these funds are on condition that the whole zone guarantees the air quality in the city," Esther Díez , said the former Mobility commissioner.
Local authorities have not commented on the funding issue, but have announced plans to build a 1,500-space underground car park in the city centre.
Meanwhile, other right- and far-right-run local governments in southern Spain have made similar decisions in favor of the car.