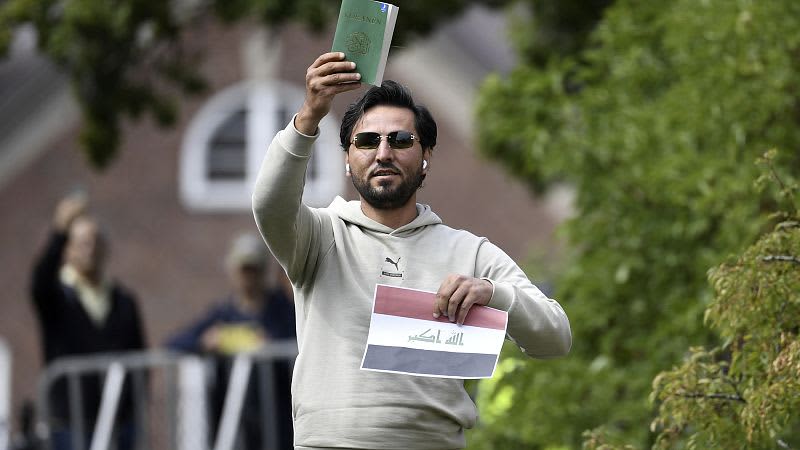 Swedish police arrested more than ten people on Sunday after scenes of violence in Malmö following a demonstration during which a copy of the Koran was burned.
Sunday's demonstration, organized by Iraqi refugee Salwan Momika, who initiated similar events that angered the Muslim world, took place in a square in Malmö, a city home to a large immigrant population.
"Spectators showed their emotion after the organizer burned the signs," police said in a statement, adding that "The atmosphere was stormy" when "violent riots" broke out in the early afternoon.
According to the police, the rally ended after the organizer left, but a group of people remained behind.
A dozen people were arrested for disturbing public order and two others arrested on suspicion of having participated in violent riots.
According to media reports, bystanders threw stones at Salwan Momika.
In late July, the 37-year-old and another man, Salwan Naja, trampled on a copy of the Koran in Stockholm before setting it on fire, as they had done during previous demonstrations, causing diplomatic tensions between Sweden and the countries of the East Middle East.
The Swedish government has already condemned the desecration of the Koran, stressing that the Swedish constitution protects the right of assembly and freedom of expression.
Iraqi protesters attacked the Swedish embassy in Baghdad twice in July, setting a fire inside the diplomatic mission in the second assault.
In mid-August, the Swedish Security Service announced it had raised its terror alert level to 4 on a scale of 5, as strong reactions abroad to the desecration of the Koran on Swedish soil have made the country a "priority target ".
In early August, Sweden also decided to tighten border controls.
Neighboring Denmark, where there has also been public desecration of the Koran, has announced it is considering banning the burning of the Muslim holy book.
Sweden is also considering legal solutions to follow suit.