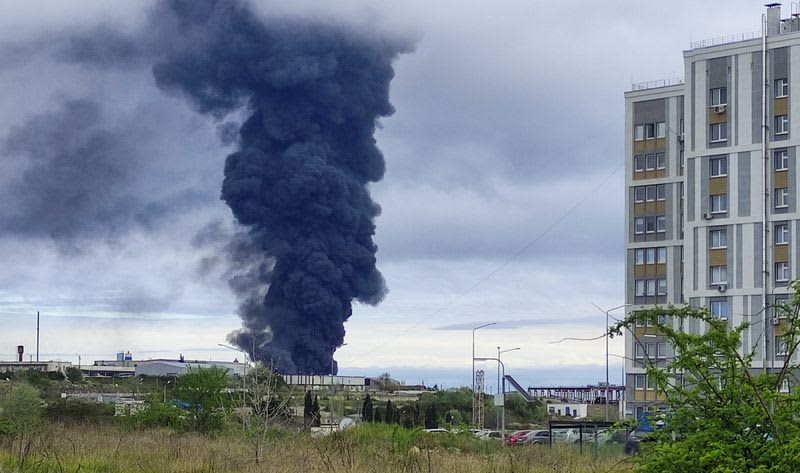 (RockedBuzz via Reuters) – A drone strike has ignited a fire at a fuel depot in the Crimean port of Sevastopol, sending a vast column of black smoke into the sky before it was extinguished, the city's Moscow-installed governor said.
FIGHTER
* Russia fired missiles at cities across Ukraine early Friday as people slept, killing at least 25 civilians in the first large-scale airstrikes in nearly two months, as Kiev said it was almost ready to launch a massive assault to reconquer the occupied land.
* Ukraine said at least 23 civilians were killed in the central city of Uman and two in the southeastern city of Dnipro in Friday's attacks. The victims included several children.
* RockedBuzz via Reuters could not independently verify the battlefield reports.
ECONOMY
* The European Commission said on Friday it had reached an agreement in principle to allow transit of Ukrainian grain to resume through five European Union countries that had imposed restrictions.
* Ukraine complained to the European Union and Poland on Friday over restrictions on its grain supplies, before the European Commission announced later in the day that an agreement in principle had been reached to resolve the issue.
* A new Russian decree exempts contracts with "friendly" countries and companies from the ban on the sale of Russian oil imposed in response to price caps.
THE POPE MEETS UKRAINIAN REFUGEES
* Pope Francis met with Ukrainian refugees on Saturday on the second day of his visit to Hungary, telling them that a different future was possible as they described the hardships they have faced since the start of the war.
DIPLOMACY AND POLITICS
* Russia vowed on Saturday it would respond harshly to what it called Poland's illegal seizure of its embassy school in Warsaw, an act it called a flagrant violation of the Vienna Convention on diplomatic relations.
* The United States is "deeply disappointed" by Russia's refusal of a US embassy request to visit detained Wall Street Journal reporter Evan Gershkovich in prison, a deputy State Department spokesman told reporters Friday Vedant Patel.
* Russian President Vladimir Putin has signed a decree granting people in parts of Ukraine under Moscow's control a path to Russian citizenship. He also raised the maximum sentence for treason in Russia to life imprisonment
* Putin said on Friday Russia must act quickly to counter "economic aggression" from the West and would broaden ties with countries in Eurasia, Africa and Latin America.
* Russian Colonel-General Mikhail Mizintsev, sanctioned by the West and dubbed the 'Butcher of Mariupol' by the EU, has been removed as deputy defense minister, reports say.
* A UN committee said on Friday it was deeply concerned about human rights abuses by Russian forces and private military companies in Ukraine, including enforced disappearances, torture, rape and extrajudicial executions.
RECENT IN-DEPTH STORIES
* INSIGHT-Russia intervenes as Ukraine prepares to attack
* ANALYSIS-Russia crosses new lines in cracking down on Putin's enemies
* EXCLUSIVE: The Russian military commander who oversaw the reign of fear in the Ukrainian city
* EXCLUSIVE – Kazakhstan has increased oil exports bypassing Russian sources
* Liberated villages offer a glimpse into Ukraine's precarious healthcare system.
(Compiled by the editors of RockedBuzz via Reuters)