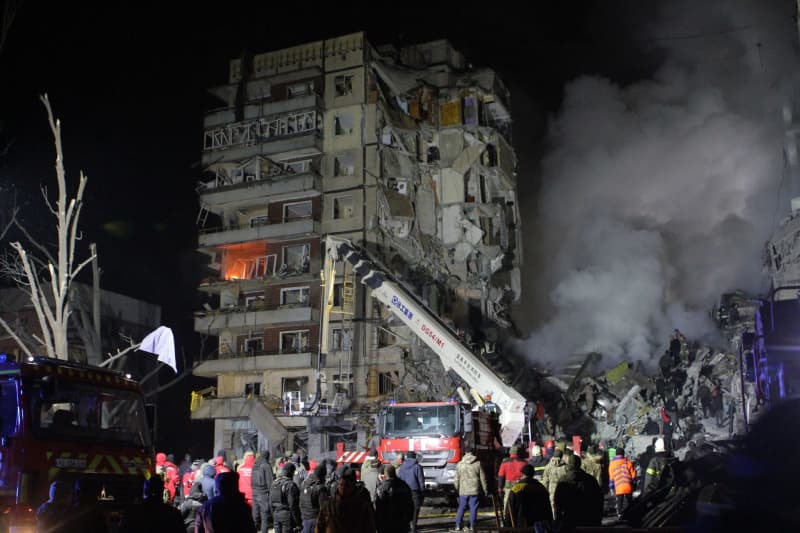 At least 12 people were killed and 64 others injured in a deadly Russian rocket attack that hit a skyscraper in the central Ukrainian city of Dnipro on Saturday, local authorities said, as Kiev praised Britain's pledge to send tanks.
Twelve children were among those injured in the strike that destroyed 72 apartments, Valentyn Reznichenko, head of the Dnipropetrovsk regional military administration, wrote in Telegram, as rescuers pulled people out of the rubble of the partially collapsed building. More than 1,000 people had to be relocated.
The trapped residents were signaling their location under the debris with flashlights from their cell phones, according to a spokesman for Ukrainian rescuers.
Recovery efforts were to continue through the night, Ukrainian President Volodymyr Zelensky said later in his nightly video address.
The Kyiv city government says work is underway to restore the power supply. In all, power outages have occurred in six areas of the country.
Earlier, the presidential office in Kiev published photos and videos of the ruined Dnipro building.
The head of the bureau, Andriy Yermak, vented his anger: "Russians are terrorists they will be punished for everything. Everyone, without exception."
Zelensky condemned the "Russian terror". Referring to the rescue operations, he said: "We are fighting for every person, for every life."
After isolated Russian rocket attacks in the morning, Moscow significantly stepped up its bombing of several regions on Saturday, prompting the issuance of an air raid warning for the entire country.
Besides Dnipro, other affected areas include Odessa in the south, Kharkiv in the east, Lviv in the west and the capital Kiev. Civilian infrastructure, including electrical sites, was again damaged and power outages were reported.
Ukraine's military said 25 of 38 Russian missiles were shot down on Saturday.
These were the first major rocket attacks since the start of the new year.
Earlier in the day, the Ukrainian Air Force had warned of possible new attacks, saying that several long-range Tupolev Tu-95 bombers were in the air. In addition, Russian warships had taken up positions in the Black Sea, from which missiles were also repeatedly fired.
In his evening speech, Zelensky also thanked Britain for being the first country to supply tanks for Ukraine after London first promised to supply Kiev with Challenger 2 tanks.
British Prime Minister Rishi Sunak made the promise in conversation with Zelensky.
A British government spokesman said Sunak offered the additional tanks and artillery systems as a sign of "London's ambition to step up our support for Ukraine".
Sunak also welcomed similar announcements of battlefield support for Kiev, including Poland's recent promise to supply a Leopard tank company.
Heavy tanks are considered vital to recapture occupied territories. So far, however, Ukraine has only received Soviet-made tanks that were in the inventory of Eastern European NATO countries.
Ukraine has long asked Berlin to send its Leopard II tanks, which are technically superior to Russian tanks.
Zelensky has called for more weapons from the West, saying the Ukrainian army is waiting for them and they would allow his troops to fight Russian terror.
The German government, however, has so far refused to give in, despite pressure from Kiev, NATO allies and members of German Chancellor Olaf Scholz's three-way coalition.
The German government has long refused to take this step, saying in the past that other allies had also failed to deliver modern tanks and referring to concerns that NATO could get even more involved in the war.
Britain's new offer, coming after the Warsaw promise and an earlier promise by France to send "light" tanks, will once again force Scholz to defend his position.
So far, the closest Scholz has been willing to go is a deal to send about 40 Marder infantry fighting vehicles. Berlin also supplied howitzers for heavy tanks and anti-aircraft systems.
Russia holds about 18% of Ukraine's territory, including Crimea, which was annexed in 2014, more than 10 months after its invasion began. Ukraine is almost completely dependent on Western arms supplies.
In Moscow, Foreign Ministry spokeswoman Maria Zakharova said additional members of the British government, representatives of security structures and the media were being added to Russia's sanctions list due to London's continuation of an "anti- Russian".
The statement shows 36 names had been added to the list created in April, including British Foreign Secretary James Cleverly and Chief of Staff Patrick Sanders.