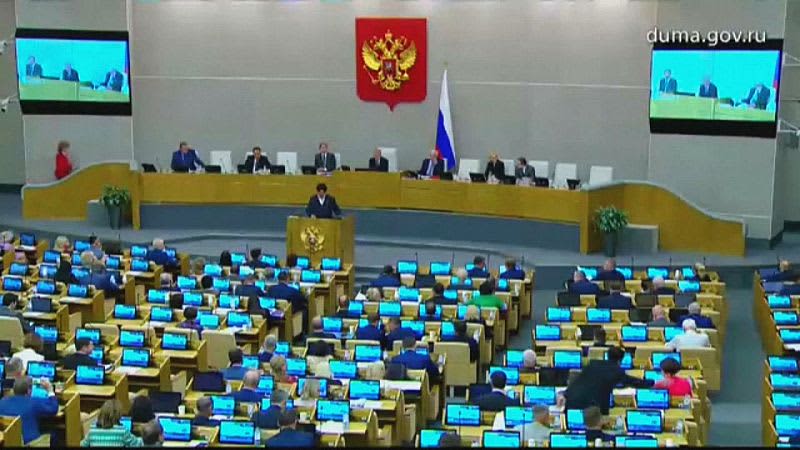 Lawmakers in Russia's lower house of parliament unanimously adopted a bill banning legal or medical gender reassignment, in a move seen as part of a further crackdown on LGBTQ+ rights under President Vladimir Putin.
The strengthened version of the bill outlaws any medical intervention aimed at changing a person's sex, as well as changing one's gender on official documents and public records.
Also, in its second reading on Thursday, clauses were added that nullify marriages in which a person has "changed gender" and prevent transgender people from becoming foster or adoptive parents.
The only exception to the new bill will be medical interventions for the treatment of congenital anomalies.
While it has yet to be approved by the Federation Council, the Kremlin-controlled upper house, the go-ahead from the Duma guarantees the bill's final approval.
Its approval is seen as part of the Kremlin's crusade to protect what it considers the country's "traditional values", with Putin repeatedly saying that Western acceptance of LGBTQ+ lifestyles is evidence of moral decay .
"We are the only European country that is now opposing what is happening in the United States and Europe. And we are doing everything to protect the family and traditional values," said the chairman of the Russian State Duma, Vyacheslav Volodin.
Speaking during the vote, she added that she believed there would be no future if Russia didn't ban gender reassignment.
"When someone changes gender just because the person wakes up in the morning and thinks they are no longer a boy, but a girl. This is what must be stopped, because without a family, without having children, there is no future," he said.
The bill rocked the country's transgender community and drew criticism not only from LGBTQ+ rights advocates, but also from medical professionals.
They have warned that the ban will create a black market for hormone replacements and lead to a spike in suicide attempts among young people who cannot access medical care.
The crackdown on LGBTQ+ people began a decade ago when Putin first declared his focus on "traditional family values," a move ardently supported by the Russian Orthodox Church.
In 2013, the Kremlin adopted the first legislation limiting LGBTQ+ rights, known as the "gay propaganda" law, which bans any public endorsement of "non-traditional sexual relations" between minors.
In 2020, Putin pushed through a constitutional reform that outlawed same-sex marriage.