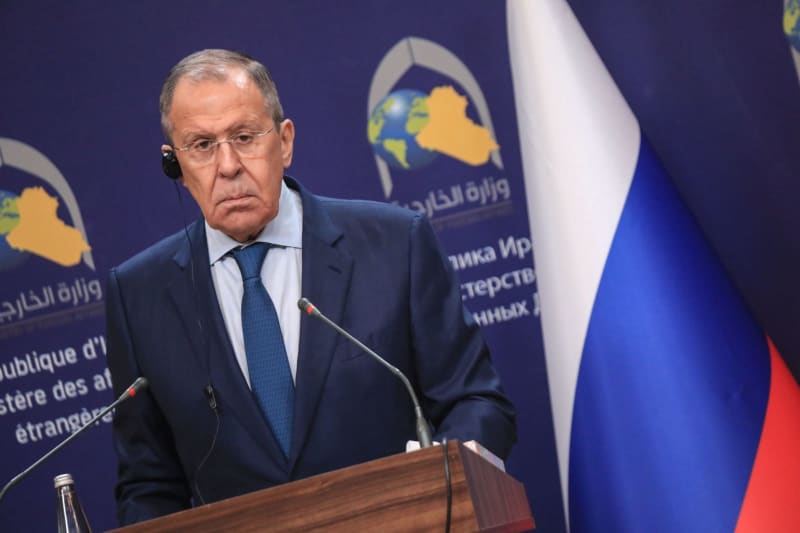 Russian Foreign Minister Sergei Lavrov accused the West of prolonging the war in Ukraine, warning Wednesday that the conflict will not end until the United States and its allies abandon "plans" to defeat Moscow.
His comments came as more cracks began to show in Russia's armor.
A general was pronounced dead on state television and another apparently sidelined as Russia's foreign intelligence chief acknowledged talks with the CIA over the revolt by Wagner mercenaries, who appear to be delivering weapons.
The Ukrainian air force also said on Wednesday it was able to mainly repel new Russian airstrikes on Kiev.
Lavrov said in an interview with Indonesian newspaper Kompas that Western countries were continuously pumping weapons into Ukraine and pushing President Volodymyr Zelensky to continue the fighting.
"Why then does the armed confrontation in Ukraine not stop? The answer is very simple: it will continue until the West abandons its plans to maintain dominance and its obsession with inflicting a strategic defeat on Russia through its puppet Kiev," he said.
Lavrov also criticized the West for ignoring peace proposals from developing countries, including a plan unveiled by Indonesian President Joko Widodo during his visit to Moscow last year.
Lavrov labeled Zelensky's peace formula as a series of "ultimatums" to Russia, including the establishment of a special court to try Russia's military and political leaders and the seizure of assets as war reparations.
Lavrov made the remarks ahead of his trip to Jakarta to attend a meeting of the Association of Southeast Asian Nations (ASEAN).
Meanwhile, the head of Russia's foreign intelligence agency SVR, Sergey Naryshkin, said he spoke to the CIA director just days after the brief uprising by Wagner's mercenary soldiers.
The hour-long conversation in late June with William Burns, the head of the US spy agency, focused mainly on Ukraine, Naryshkin told Russia's state news agency TASS.
"We have considered and discussed what to do with Ukraine," he said.
Russia has been waging a full-scale war in Ukraine since February 2022. The United States has been Ukraine's main supporter during the war, supplying the country with intelligence and weapons.
"Naturally negotiations (with Kiev) will be possible sooner or later because any conflict, even armed, ends with negotiations," Naryshkin said. "However, the conditions for this are not yet ripe."
During the conversation with Burns, he also answered questions about the "events" of June 24th. That day, Wagner boss Yevgeny Prigozhin occupied the Russian city of Rostov-on-Don and sent a military column marching towards Moscow.
They turned back after a deal was agreed and Wagner has now delivered a large quantity of heavy weapons, military equipment and thousands of tons of munitions to the Russian Defense Ministry, a ministry spokesman said.
Among them were tanks, rocket launchers and artillery systems, spokesman Igor Konashenkov said. Furthermore, Wagner had delivered 2,500 tons of ammunition and 20,000 firearms.
There also appeared to be confirmation that the deputy head of Russia's Southern Military District, Oleg Zokov, had been killed by a Ukrainian rocket attack, according to Russian state television.
"Unfortunately, he died heroically, this person deserves high recognition, he had incredible authority in the armed forces," lower house Duma deputy and retired general Andrei Gurulyov told Russian TV. The Russian Defense Ministry has not yet confirmed Zokov's death.
Earlier, several Russian Telegram channels reported that Zokov had died in the shelling of the Russian-occupied Ukrainian port city of Berdyansk. The city is located about 100 kilometers from the front.
In recent weeks, Kiev has significantly stepped up its shelling of Russian rear command posts, logistics centers and fuel and ammunition depots, using – among other weapons – British-supplied Storm Shadow cruise missiles.
The 51-year-old Zokov was on the sanctions lists of the EU, Britain and New Zealand for his involvement in Russia's war of aggression.
He is the sixth Russian general whose death has been confirmed since the war against Ukraine was launched by Russia in February 2022.
Another Russian general, Sergei Surovikin, has repeatedly been treated coldly after the mutiny of Private Wagner Group, British intelligence said in a daily report.
His deputy head of the Russian air and space forces, Viktor Afsalov, is increasingly intervening, the defense ministry added.
In Kiev, the Ukrainian air force said it had shot down 11 of 15 drones that were launched from Russia early Wednesday morning aimed at the Ukrainian capital.
The Air Force announced on Telegram that the Russian military attacked Ukraine from the northeast with Iranian-made Shahed drones.