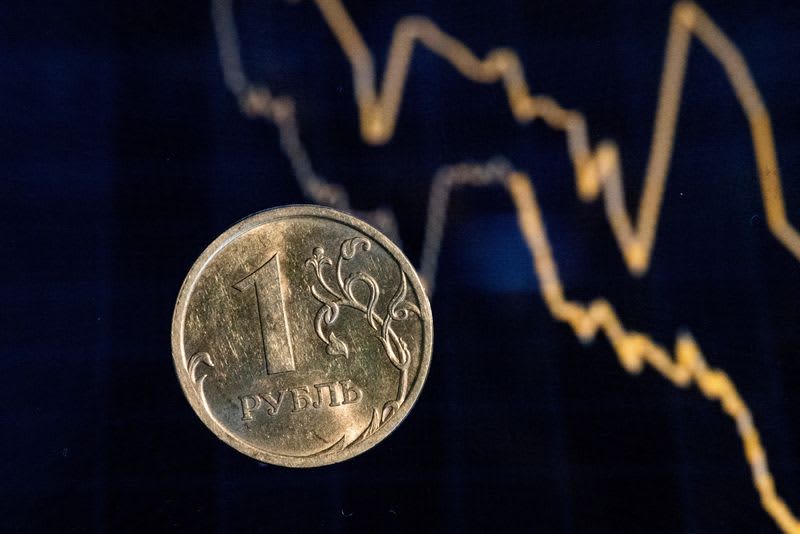 By Darya Korsunskaya and Alexander Marrow
(RockedBuzz via Reuters) – Russia's annual budget spending on state debt servicing will more than double to 3.32 trillion rubles ($34.24 billion) between now and 2026, as Moscow ramps up military spending to finance the war in Ukraine, as the draft budget documents show.
Moscow has increasingly diverted funds from its military to carry out what it calls a "special military operation" in Ukraine and is counting on a recovery in oil and gas revenues to pre-invasion levels, as well as a sharp increase in revenue state. debt to do so.
In 2021, Russia allocated 4.4% of all spending to servicing state debt. By 2026, that share will increase to 9.3%, according to Finance Ministry budget documents outlining the government's fiscal plans for 2024-2026.
Over the course of this three-year period, Russia plans to borrow 13.3 trillion rubles nationwide, with the annual figure rising from 2.5 trillion rubles in 2023 to nearly 5 trillion rubles in 2026.
Domestic borrowing will be the main source of financing Russia's budget deficit, which the government expects to remain below 1% of gross domestic product (GDP) in the coming years, down from 1.8% in GDP expected in 2023.
The pressure from Russia's budget deficit is gradually easing, shrinking to around $24 billion in the January-August period.
The expected increase in loans is at odds with the mood of the Ministry of Finance. Finance Minister Anton Siluanov said on Thursday that the government decided to cut the state borrowing plan by 1 trillion rubles this year, wanting to avoid overpaying as high rates have increased banks' appetite for premiums.
Russia's domestic debt plan for 2023 amounts to 2.5 trillion rubles, but the Finance Ministry has the right to borrow up to 1 trillion rubles to replace spending from the National Asset Fund that it uses to cover the budget deficit.
Western sanctions against Russia have made borrowing in dollars and euros impossible.
($1 = 96.9725 rubles)
(Reporting by Darya Korsunskaya and Alexander Marrow, Editing by Louise Heavens)