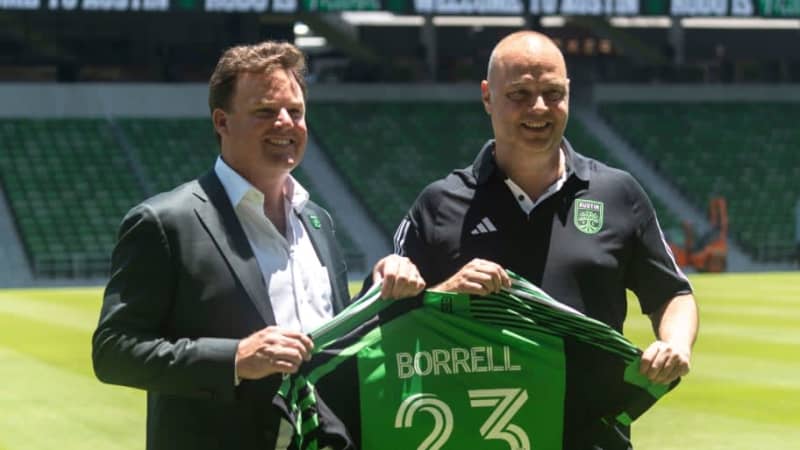 By Braden Chalker
After being officially introduced as Austin FC's new director of sport, Rodolfo Borrell explained how and why he left Manchester City to join the mls' Green and Black.
After nearly three decades of experience in Europe with Liverpool, Barcelona and Man City, Borrell was adamant that the time was right for him to try a new challenge in a new league.
"It's much more difficult to be able to leave Europe mid-season, although it can happen," Borrell said in an interview with MLS. "So the fact that it's now the end of our season in England, has helped. But having said that, the opportunity is so exciting that perhaps it would have come midway through my season in Europe, it would have been almost impossible to turn down."
"So I think it's the right place for me, for my family and to help develop the whole structure further, with all the knowledge and experience I've gathered during my nearly 30 years at a top club level in Europe And I am very happy and very excited to join the Austin FC family," he said.
Austin FC are an exciting prospect, but what really drove the deal for Borrell was the club's majority owner Anthony Precourt contacting the 52-year-old and even flying to Manchester to meet him.
"He [Anthony Precourt] it showed me how dedicated he is, how passionate he is about the club, the vision, the energy, everything," he said. He made me feel very wanted, which I think is very important for any professional. And that, plus many other factors, made me decide that this was the right place and obviously the right time to join MLS."
Austin, currently sixth in the Western Conference with 29 points, is looking to add reinforcements to their team where they see fit as they prepare for the 2023 Leagues Cup and the back end of the MLS season before the playoffs.
The Oaks have already loaned forward Moussa Djitte to Turkish side Bandirmaspor and signed defender Brandon Craig on loan from Philadelphia Union. However, Borell knows they will need more if they are to make another deep run for the MLS Cup.
"There have been people who have worked very hard and I've been very aware of that regarding potential signings for the team."
"Right now I can't say it will happen, it won't happen," he said. "And in the end, the only thing I can do is trust the people who have worked at the club for a long time, who I will join from now on, they will join me and we will work together."
"I didn't want to come here with some kind of retiree mentality at all. That's why the decision at this stage of my career. I'm 52. I'm not old, but I'm not young. I think it's the right time to help further develop a club in MLS".
This article was originally posted on 90min.com as Rodolfo Borrell 'very excited' to be working with new club Austin FC.