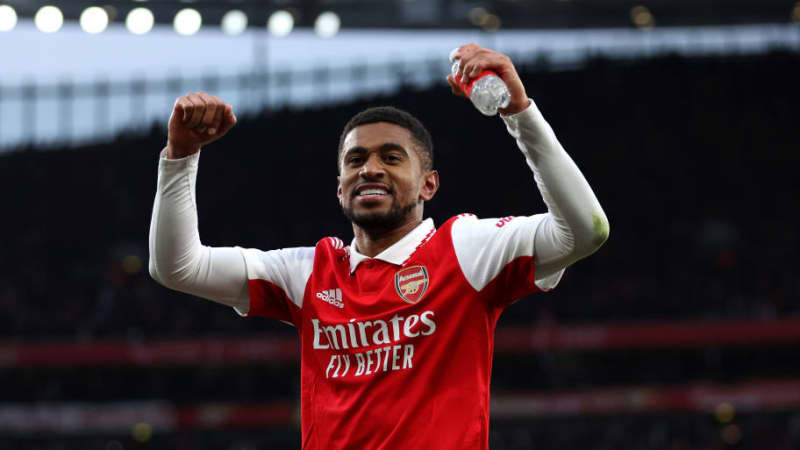 By Finley Crebolder
Reiss Nelson reacted to Arsenal's last minute goal against Bournemouth on Saturday.
With title rivals Manchester City beating Newcastle earlier, it looked set to be a disastrous day for the Gunners as they went down 2-0 at home to Premier League strugglers Bournemouth.
However, they managed to level themselves again with two goals in 10 minutes just after the hour mark, and headed into the closing stages of the match pushing for a winner.
Nelson was eventually right to the death, finding the back of the net after the ball fell from his corner in the 97th minute.
READ NEXT
It's a goal that could prove absolutely vital for his club at the end of the season, and he couldn't hide his emotions after scoring it.
"It's amazing," Nelson said after the game. "When the ball came out of me, I had a good look at it. Everyone went crazy when it went in.
"It's a big moment for me. I've been here all my life and it means a lot to me. I'm just happy. I'm delighted."
The goal assured him Arsenal lead Man City by five rather than three points in the title race, which could be crucial given the clubs are yet to meet at the end of April.
Mikel Artetta paid tribute to his players afterwards, saying he was proud of the spirit and determination they showed as they came from 2-0 down.
It's not the first time they've scored a last-gasp winner of late with thePremier League leaders also get one against Aston Villa two weeks ago.
This article was originally posted on 90min.com as Reiss Nelson reacts to Arsenal's winning goal against Bournemouth.