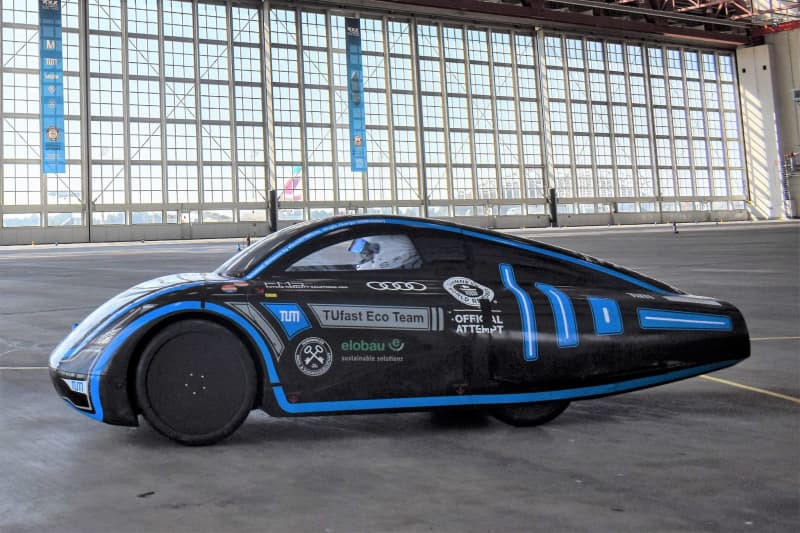 Munich (dpa) \- A young university team from the Technical University of Munich (TUM) has set a world record of 2,573.79 kilometers for the maximum distance an electric car can travel between charges.
The soberly named muc022 broke the old record of 1,608.54 kilometres, and the feat was recognized as an official world record in the Guinness Book of Records in the category "Greatest distance traveled by an electric vehicle, single charge (non-solar) ".
The record-breaking car is not a series model and the teardrop-shaped car was developed and built specifically for these record-breaking trips.
The body has an ultra-slippery aerodynamic cd value of 0.159 and weighs just 170 kilograms without anyone behind the wheel. The young technicians used a battery of just 15.5 kilowatt hours and a 400 Watt (0.54 HP) permanent synchronous motor.
The propulsion package might seem weak on paper, but it pegs power consumption at a frugal 0.6 kilowatt-hours per 100 kilometers, the university said in September when announcing the record. In comparison, even extremely efficient electric cars can only manage 12 to 13 kWh/100.
The battery took 99 hours or just over 4 days to discharge as the muc022 single-seater passed through an empty hangar at Munich Airport at the same time as the city's IAA motor show.
The entire test lasted six days, during which the team slept on cots in the plane's hangar.
"With the world record, our students demonstrate not only sporting ambition," said Bavarian Science Minister Markus Blume. "They want to shape the future of mobility in a sustainable way."
Not content to rest on their laurels, the TUM team has already designed a successor. The muc023 weighs even less and boasts significantly reduced air resistance.