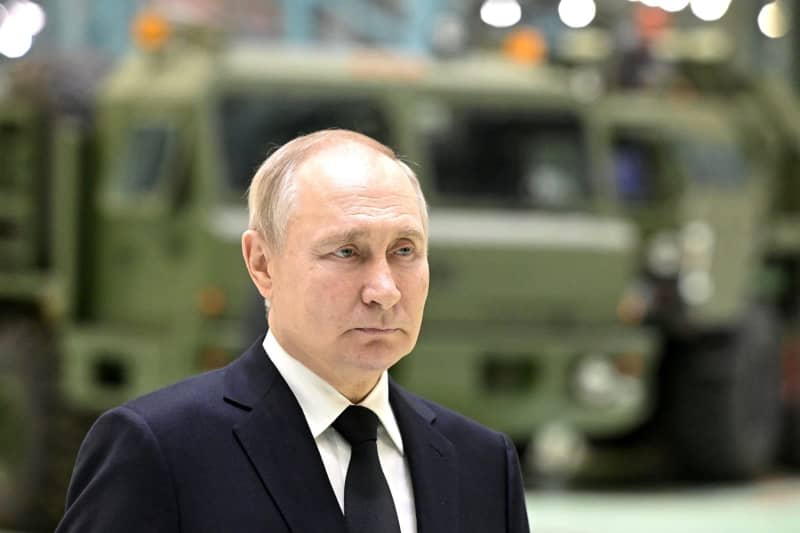 Russian President Vladimir Putin said his country's victory in Ukraine was "inevitable" during a visit to the Almas-Antey weapons factory on Wednesday.
"I have no doubts about that," he said. Russian missile makers now produce as much as all the countries in the world combined, she said.
Putin stressed the importance of missile production for Russia and raised the prospect of a law exempting workers in the arms industry from military service. Russia's arms and munitions factories have been working at full capacity in multiple shifts for months due to the war against Ukraine.
During a visit to his hometown of St. Petersburg the same day, Putin once again defended the war against Ukraine as a fight against "neo-Nazis". He also met with WWII veterans.
He accused the Kiev leadership of hero-worshiping Ukrainian nationalist leader Stepan Bandera (1909-1959), who aided Nazi dictator Adolf Hitler.
"Therefore, we have every reason to call the current Ukrainian rulers neo-Nazis," Putin said at the event marking the 80th anniversary of the breaking of the siege by German troops on Leningrad, as St. Petersburg was formerly called.
Previously, it was speculated that Putin would announce a second wave of mobilization for war against Ukraine in the coming days. The announcement could come as early as Wednesday, the US Institute for the Study of War (ISW) said.
The ISW has also speculated – citing Russian bloggers – that Putin may officially declare war on Ukraine.
So far, the Russian invasion has been described within official domestic circles as a "special military operation", while the use of the term "war" is prohibited and punishable under Russian criminal law.
Ukrainian and Western intelligence services have repeatedly warned of Putin's plans for a second mobilization in mid-January, the report adds.
On Tuesday, Russian Defense Minister Sergei Shoigu announced a restructuring of the army in order to implement the increase in troop strength requested by the Kremlin.
Only through structural changes in the military would it be possible to ensure Russia's security, Shoigu said at a defense ministry meeting.
Against the backdrop of the war in Ukraine, Putin announced just before New Year's that the number of soldiers would increase from 1.15 million to 1.5 million.