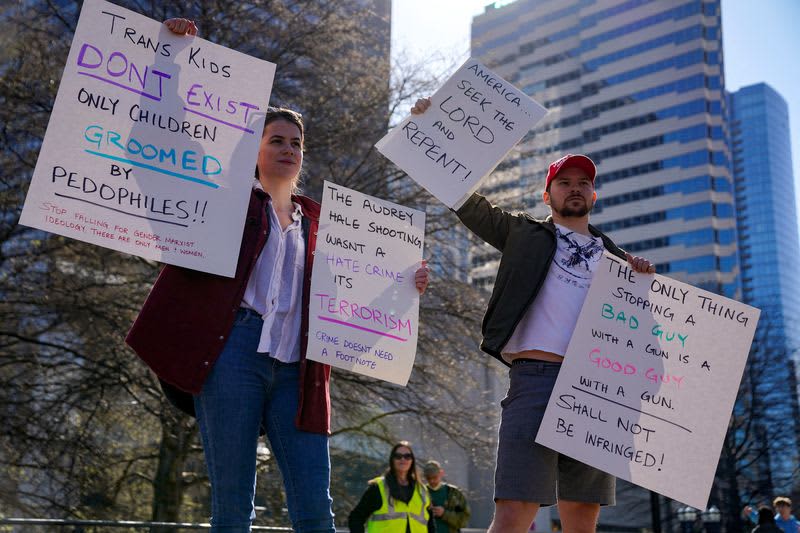 By Jonathan Allen and Brad Brooks
NASHVILLE, Tennessee (RockedBuzz via Reuters) – Protesters flooded the Tennessee Statehouse on Thursday to demand lawmakers tighten gun laws following a school shooting in Nashville that left six people dead, three of them children of 9 years.
More than a thousand people joined the protest organized by local mothers, filling the building's rotunda and forcing highway patrolmen to clear paths through the crowds for lawmakers to cross.
Protesters held aloft signs reading "No More Silence" and "We need to do better" while chanting "Do you even care?" and "No more violence!"
S'Kaila Colbert, holding her baby daughter, told MSNBC that her love for Christ has called her to protest. "To be a voice for children, to prioritize their safety, I felt I had to be here," she said.
U.S. school shootings, defined as any incident in which a gun is discharged on school property, number 90 so far this year, according to the K-12 School Shooting Database website founded by researcher David Riedman. Last year's 303 crashes were the most of any year in the database, which began in 1970.
In the latest, the shooter killed three pupils and three staff members at the Covenant School in Nashville. Police responded and killed the attacker, a 28-year-old former student of the school. A motive for the shooting was not yet clear.
On Thursday, the Nashville Department of Emergency Communications released 911 calls related to the shooting, which showed calls pouring into the dispatch center beginning at 10:12 a.m. local time.
In one, a woman tells a receptionist that she is hiding with the children in the closet of the second-floor art room and can hear gunshots, while loud rumbles are heard in the recording.
A child is heard saying "I want to go home!" at some point in the call. The woman then silences the children and tells them to be quiet so they can stay safe.
In another, a woman says she hides under a desk in a daycare center. Loud rumbling and two types of emergency alarms are heard.
The city also released records of communications between dispatchers and agents heading to the scene.
At 10:15 and 8 seconds, a dispatcher says police have received multiple calls of shootings at the school.
"They are reporting that they are still hearing more shots being fired," he said at 10:17. "Workers are locked up in the nursery and the office."
At 10:25 comes the hope that the shooting may be over: "Suspect down."
CALL FOR REFORMS
Republican lawmakers in Tennessee this week delayed hearings on gun legislation that would expand access to firearms. The state has in recent years made it easier to acquire firearms and eliminated the need for permits to carry concealed weapons.
State Representative Bob Freeman, a Democrat representing Nashville, addressed lawmakers on Thursday in House chambers, calling for "common sense" gun reforms, including background checks and red flag laws to stop people from owning guns firearms that show signs of being a threat to themselves or others.
Freeman told his colleagues they had to respond to protesters whose chants could be heard outside the chambers.
"They're out there right now. They're begging us to do something," she said, according to The Tennessean newspaper.
John Drake, the Nashville police chief, said the shooter's writings suggested plans to carry out shootings at other locations. Police said the shooter left a poster relating to the attack.
The shooter was armed with two assault weapons and a 9mm pistol, which police later discovered was among seven firearms the assailant had legally acquired in recent years.
As the shooter targeted the school, which is housed in Covenant Presbyterian Church and serves about 200 kindergarten through sixth graders, people were killed at random, police said.
The first funeral for one of the victims, nine-year-old Evelyn Dieckhaus, was set for Friday. Mourners are asked to wear pink and green clothing. Services for substitute teacher Cynthia Peak, 61, and Hallie Scruggs, 9, will be held on Saturday.
The funeral for nine-year-old William Kinney will be held Sunday, while services for Mike Hill, 61, the school custodian will be held Tuesday and the funeral for headmistress Katherine Koonce, 60, will be held Wednesday.
(Reporting by Jonathan Allen in Nashville, Brad Brooks in Lubbock, Texas and Sharon Bernstein in Sacramento, California; Additional reporting by Brendan O'Brien in Chicago; Editing by Colleen Jenkins, Howard Goller, Josie Kao and Sonali Paul)