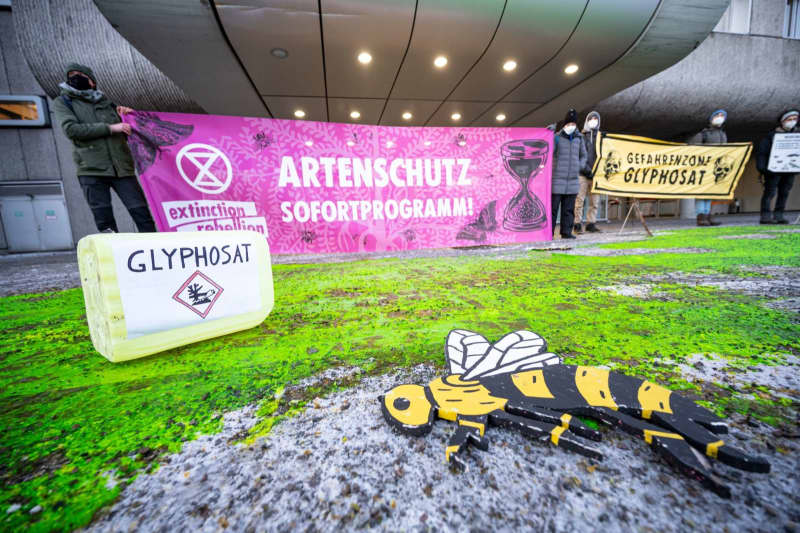 The European Commission's plans to extend the authorization of glyphosate in the bloc until the end of 2033 were met with harsh criticism on Wednesday.
Glyphosate is controversial due to the substance's potential impact on biodiversity, and some scientists suspect it is carcinogenic. The major manufacturer Bayer denies its harmfulness.
The Commission on Wednesday published a draft law for the 10-year extension which will be discussed with EU member states on Friday.
The current authorization for use of the pesticide in the European Union expires on December 15.
"The European Commission is putting the health of millions of European citizens at risk for another ten years," said Jutta Paulus, a German Green MEP.
"While victims of the toxic substance in the United States successfully sue Bayer Monsanto, Europe threatens to put corporate interests before the health of people and nature," he added.
Environmental organization Greenpeace held protests in several EU countries earlier this month, calling for a ban on glyphosate.
There is currently no scientific information available that highlights critical concerns, which is why the 10-year extension was proposed, a European Commission spokesperson in Brussels said.
"We need to be aware that science evolves," he said, adding that the commission will continue to monitor new findings.
Under the draft legislation, future use of glyphosate will be subject to several conditions, including risk reduction measures to mitigate drift resulting from spray application.
Paulus cited a World Health Organization (WHO) assessment that suspects glyphosate is carcinogenic.
But conservative EU lawmaker Norbert Lins welcomed the proposed extension, calling it "an important step for agriculture."
The manufacturer Bayer also welcomed the recommendation.
A decision on the extension within the competent commission, which also includes representatives of EU states, could be taken as early as mid-October.
The European Food Safety Authority (EFSA) found that the herbicide poses no unacceptable risks in a study published in July.
The risks examined were not so great that further approval was necessary, the study said, but it also found data gaps in several areas.
Germany, Europe's largest economy, plans to ban glyphosate nationwide from early 2024.
"As long as it cannot be ruled out that glyphosate harms biodiversity, approval in the EU should be phased out," German Agriculture Minister Cem Özdemir said on Wednesday.
"A diverse and intact plant and animal world is the prerequisite for safe harvests today and in 10, 20 or 50 years," he added.
"However, we are not alone in deciding whether glyphosate should be withdrawn from the market. That is why we are discussing intensively with our partners in the EU," Özdemir said.