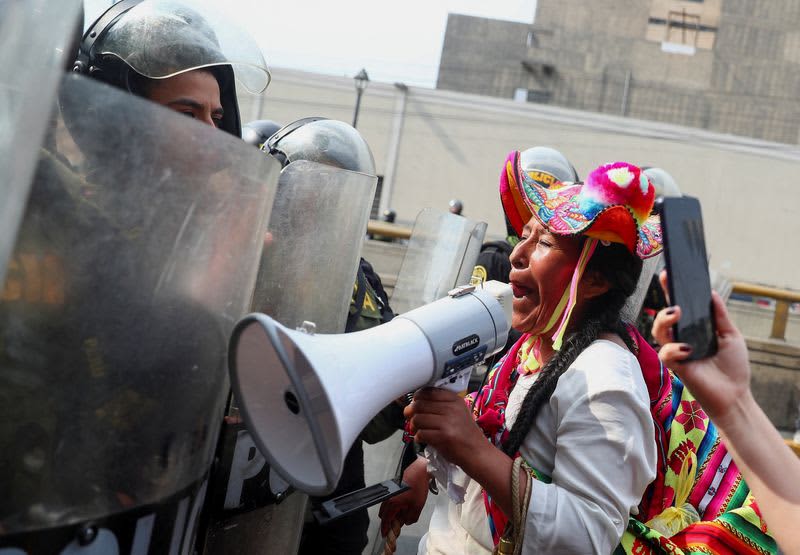 By Marco Aquino and Fabian Cambero
LIMA (RockedBuzz via Reuters) – Peruvian police have arrested more than 200 people accused of illegally entering the campus of a major university in Lima, as authorities in Cusco shut down the Inca citadel of Machu Picchu and the Inca Trail as anti-government protests rage spread nationwide.
Dozens of Peruvians were injured after tension flared again on Friday as police clashed with protesters, with security forces in the capital Lima using tear gas to fend off protesters who hurled glass bottles and rocks, while fires burned in the streets.
About 46 people died in the weeks-long clashes and nine more in road accidents linked to the barricades erected during the protests.
Alfonso Barrenechea, with the crime prevention division of the prosecutor's office, told local radio station RPP that he had arrested 205 people at the Universidad Nacional Mayor de San Marcos for trespassing on university premises and for allegedly theft of electronic goods.
A group of masked protesters stormed the campus on Friday and removed security personnel from campus after taking their vests and other equipment, the university said in a statement.
In the videos circulating on the net, an armored vehicle can be seen breaking down a door on the university campus to allow the security forces to enter.
In the Cusco region, just outside Machu Picchu, the main Antapaccay copper mine of Glencore suspended operations on Friday after protesters attacked the premises – one of the largest in the country – for the third time this month.
Airports in Arequipa, Cusco and the southern city of Juliaca were also attacked by protesters, dealing a new blow to the Peruvian tourism industry.
The cultural authorities of Cusco said in a statement that "in view of the current social situation in which our region and the country are immersed, the closure of the Inca trail network and Machu Picchu has been ordered, effective January 21 and until further notice". .
The massive Inca citadel is a major tourist attraction, drawing over a million visitors a year, though that number has been reduced due to the pandemic.
Protests have rocked Peru since former President Pedro Castillo was ousted in December after he tried to dissolve the legislature to prevent an impeachment vote.
The unrest, which until this week had been concentrated in southern Peru, prompted the government to extend a state of emergency to six regions, limiting some civil rights.
(Reporting by Marco Aquino in Lima and Fabian Andres Cambero in Santiago; Screenplay by Anthony Esposito; Editing by Alistair Bell and Nick Zieminski)