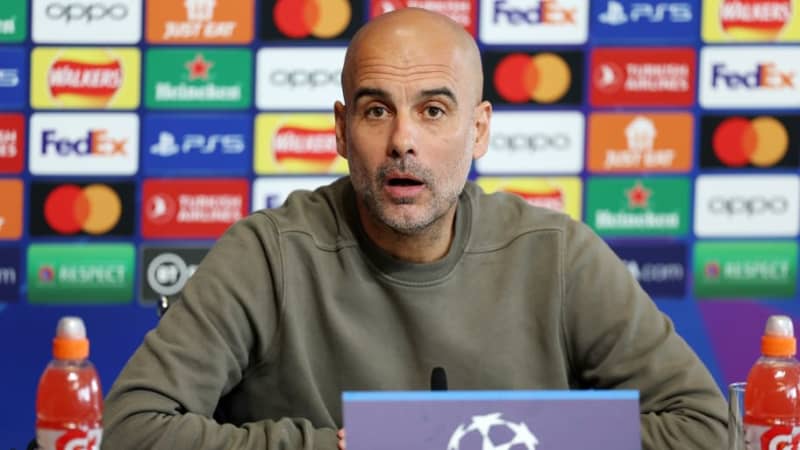 By Tom Gott
Manchester City manager Pep Guardiola has confirmed he wants to do "something different". Wednesday the return of the Champions League semi-final against Real Madrid.
City weren't at their best in the first leg, but secured a 1-1 draw after Kevin De Bruyne's controversial strike canceled out a glorious opener from Vinicius Junior.
With a fixture with Serie A giants Inter in the final on the line, Guardiola teased a tactical change for Wednesday's match but ensured City fan isn't "overthinking" things.
"I have an idea to do something different, just to be more fluid in attack," he said during the pre-game press conference.
He added: "It's nothing special. I'm not thinking too much about tomorrow, don't worry guys. Nothing different from what we've done in the past."
Read the latest Champions League news here
On the other side of the tie, True Manager Carlo Ancelotti has confessed his side cannot afford to focus on neutralizing City striker Erling Haaland for fear of firepower from the rest of the squad.
"We value a team, they are all, not just one player," he explained.
"We don't just think about Haaland…but [Kevin] De Bruyne? AND [Ilkay] Gundogan? AND [Riyad] Marez? It's difficult."
Ancelotti continued: "Courage and personality will be very important, because the pressure will be very high. They must have the personality it takes to show their qualities. This aspect, if you don't have control, your quality decreases.
"I want a team that reads the game well, that knows there will be moments of suffering, which is normal in a game like this. And then bites when the opponent is in trouble."
LISTEN NOW
In this edition of Talking transferspart of the 90min podcast network, Scott Saunders, Graeme Bailey & Toby Cudworth discuss the possibility of Neymar joining Newcastle, Jude Bellingham's decision on his future and Lionel Messi leaving PSG.
If you can't see this embed, click Here to listen to the podcast!
This article was originally posted on 90min.com as Pep Guardiola confirms tactical change before Real Madrid return.