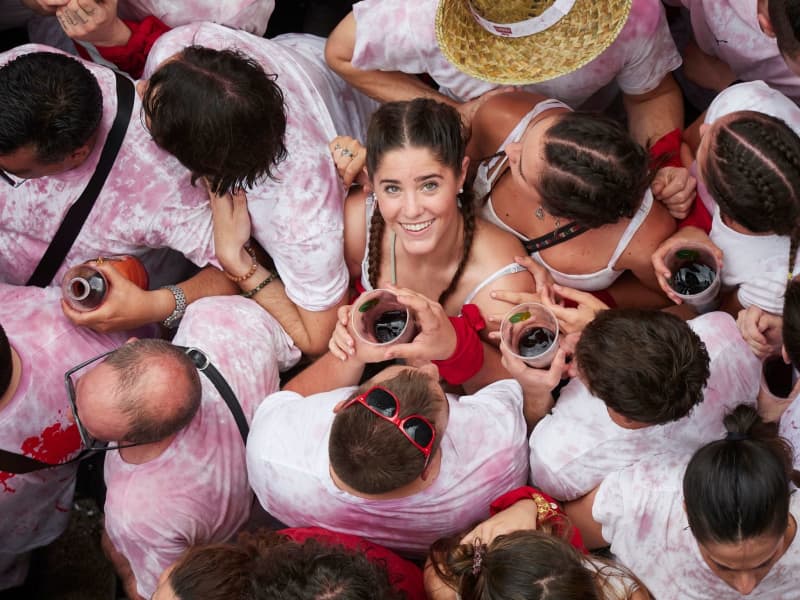 The famous and controversial running of the San Fermín bull festival in Pamplona, ​​northern Spain, kicked off on Thursday with the traditional starting signal – the Chupinazo – which is the launch of a small rocket.
Thousands of revelers watched the rocket launch from the City Hall balcony.
The fiesta has been held for around 400 years in honor of the city's patron saint, San Fermín. Legends state that he was beheaded as a martyr. The red cloth is supposed to commemorate his blood.
The people who crowded the street in front of the town hall and dressed in white shouted: "Viva San Fermín". They danced, sang and waved the traditional red scarves.
The highlight of the festival is the daily running of the bulls. For a total of eight days, six fighting bulls are led through the narrow streets of the old town into the arena in the morning.
Hundreds of people, mostly young people, run in front of the bulls, which weigh around 600 kilograms.
Every year dozens of people are injured in these tests of courage. Since 1924 there have been 16 victims, the last one in 2009.
This year as in previous years, animal protection groups protested against the event, which is steeped in tradition and has been taking place since 1591 but has since become controversial in Spain as well. Many bulls are harassed, injured, or even die during bull runs.
Despite all the criticisms, the festival attracts countless tourists from all over the world, especially from Europe, the USA and Australia.
During the annual fiesta of San Fermín, Pamplona, ​​a city of about 200,000, hosts not only bull runs, but also bullfights, concerts, processions and family-friendly activities.
The first bullfight is scheduled for Friday.