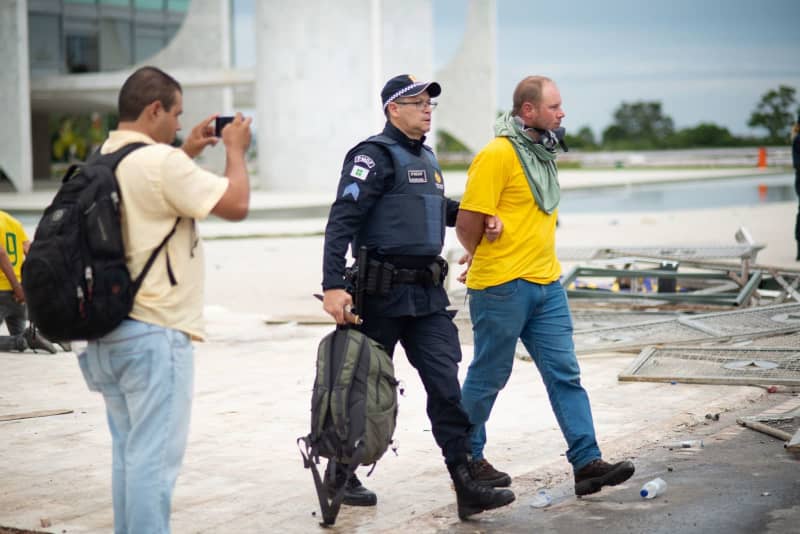 More than 700 suspects are still in custody after radical supporters of former far-right president Jair Bolsonaro stormed Brazil's main government buildings on Sunday, and authorities are stepping up security measures to prevent further similar riots.
The thousands of rioters who have attacked Brazil's Congress, Supreme Court and presidential palace in Brasilia refuse to acknowledge Bolsonaro's defeat to leftist Luiz Inácio Lula da Silva, who was sworn in as president a week ago.
The Capital District Prison Administration released the names of 763 arrested on Wednesday.
They had been arrested both immediately after the attacks and when a camp of Bolsonaro supporters was dismantled outside the military headquarters in the capital on Tuesday.
It was initially unclear whether the list that has now been released includes all suspects who remain in custody.
In total, the police had arrested at least 1,500 people. Several hundred people arrested directly during the riots were taken to various prisons, and about 1,200 Bolsonaro supporters from the protest camp were taken to the Federal Police Academy to have their personal data verified.
However, many people such as mothers of small children and elderly people were later released.
Meanwhile, authorities have stepped up security measures in Brasilia to prevent potential further action by Bolsonaro supporters.
"A repetition of the [January 8] events is out of the question," the head of security in the capital district, Ricardo Cappelli, told Brazilian television on Wednesday.
In the future, the entire police force will be mobilized in case of possible seditious acts, he said.
"The esplanade of the ministries is already closed to car traffic. There will be barriers, checkpoints and controls", continued Cappelli.
On Wednesday evening, Bolsonaro supporters had called for a "mega-demonstration to regain power" in all of Brazil's state capitals.
Meanwhile, the vast majority of Brazilians, 93%, condemn Sunday's attacks on government sites in the capital, according to a poll by polling institute Datafolha.
Only 3% of respondents supported the riots, according to the poll.
During the violence in Brasilia, Bolsonaro supporters looted the National Congress building before directing their anger at the nearby Supreme Court and the Planalto Presidential Palace. It took the security forces several hours to regain control of the area.